RARE Picture of WWE Superstar Randy Orton Playing With His Pet Python
Published 06/20/2021, 1:50 AM EDT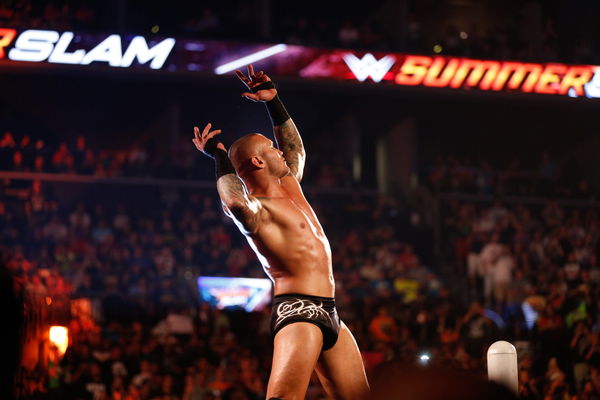 ---
---
Anyone remotely acquainted with pro wrestling knows WWE Superstar Randy Orton by his moniker 'The Viper.' However, his affinity towards snakes is not out of nowhere.
ADVERTISEMENT
Article continues below this ad
Before he became the unforgiving 'Legend Killer', Orton actually had a snake as a pet. When he was 18 years old in 1998, Orton convinced his parents to let him keep a  10' Burmese Python as a pet.
The snake used to stay in his room, and Orton confessed it smelled like a zoo. "My mom was awesome for letting me keep him in my room, but of course it smelled like a zoo haha. Always have been fascinated by reptiles," 'The Viper' said.
ADVERTISEMENT
Article continues below this ad
 

View this post on Instagram

 
At that time, Randy had no idea that the reptiles will be synonymous with his name in the pro wrestling industry. Back then, he had just graduated from high school and joined the Marine Corps.
Unfortunately, he was dismissed within one year because of bad conduct. He even went to Army trial for it and ended up in Camp Pendelton. Orton came back and started working at a gas station.
With the advice of his Hall of Famer father Bob Orton, Randy started training for wrestling in 1999. You can learn more about his trial and tribulations while becoming a wrestler here.
Watch this story – WWE Superstars Who Invaded Hell in a Cell
Randy Orton is one of the few wrestlers to use a snake as a part of his gimmick
Ahead of Orton, only a few wrestlers used reptiles. The most famous being WWE Hall of Famer Jake 'The Snake' Roberts. Despite being afraid of snakes, Roberts used to bring live snakes into the ring and release them on his opponents.
George Takano aka The Cobra was a thrilling superstar of the mid-1980s. The masked wrestler is a former IWGP Tag Team Champion and WWF Junior Heavyweight Champion.
ADVERTISEMENT
Article continues below this ad
Next up will be another Hall of Famer, 'Stone Cold' Steve Austin. A Texas native, Austin started using the 'Texas Rattle Snake' moniker because of his unpredictable attacks and stunners. Randy Orton started using 'the Viper' name for the same reason.
Apart from this, wrestlers have been using snake-themed moves for a long time. Hulk Hogan's "24-inch pythons," Kevin Nash's Snake Eyes maneuver, Sgt Slaughter's Cobra Clutch, CM Punk's Anaconda Vise submission hold, and Santino Marella's Mandible 'Cobra' Claw to name a few of the reptilian influences.
ADVERTISEMENT
Article continues below this ad
Let us know your favorite 'snake' in WWE in the comments below.