Retribution's Social Media Might Save Their WWE Careers
Published 09/26/2020, 11:37 AM EDT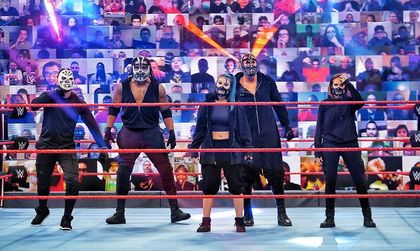 ---
---
Retribution members finally unveiled their identities on Raw last week and let's be honest – it was a train wreck. However, it was due to no fault of their own. The names of the characters were abhorrent and you would think a child penned them down.
ADVERTISEMENT
Article continues below this ad
After all, which vigilante group has members called T-BAR, Mase, Reckoning and… well, Slapjack.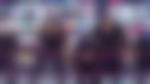 ADVERTISEMENT
Article continues below this ad
Moreover, despite strong promo skills, the content they were given was confusing to say the least. They revealed that they had signed WWE contracts – which was strange considering they had been burning the place down.
Despite everything, all is not over for Retribution. If you haven't followed them on social media yet, this writer would highly recommend you to. They've created a parallel universe for themselves on social media with their own fables and folklores, an unchartered territory in professional wrestling.
Retribution is giving itself more character depth
It's highly difficult from a booking perspective to adequately flesh out all characters in a multi-man group. The stardom and character depth achieved by "The Shield " members was after they went their own separate ways.
However, through their social media antics, Retribution members are ensuring that they flesh out their own individual identities.
Their supposed leader, T-BAR, has been the most vocal by far. He's clear with his thoughts and lays down the group's motives without any hogwash. T-BAR has constantly painted WWE as an evil Capitalist entity that must be razed to the ground.
Furthermore, he tried to salvage an extremely absurd WWE decision and did a pretty good job at it.
Mase, on the other hand, is like an unsolved puzzle. He posts cryptic messages in broken English and does most of his talking through retweets. However, he's already developing a cult following called "Mase Mob."
In the little that we've heard from Slapjack, we know that he refers to himself in third person. He has also attacked those who criticize his name.
Meanwhile, Reckoning or Mia Yim has been the most brutal. She has taken down Retribution's critics one by one, and used the most disparaging of insults. Despite an evil persona, she's stood up for women's wrestling, adding a shade of positive and some intelligent nuance.
They do things that WWE Can't
Retribution is doing an excellent job of separating its identity from WWE. They've done that by mentioning the two forbidden words in WWE – CM Punk and AEW.
Up till now, both these entities took multiple digs at WWE, without suffering any retaliation. However, Retribution isn't conditioned in WWE's diplomacy.
After CM Punk made fun of Slapjack, group leader T-BAR ripped him apart on Twitter.
Moreover, Reckoning took a shot at AEW wrestler Anna Jay.
Needless to say, Retribution isn't bound by Vince McMahon's diktats. This unhinged use of their social media accounts gives them an unprecedented edge.
Moreover, they have actively interacted with wrestling journalists and critics. That's not something that WWE Superstars usually trouble themselves with. However, every Twitter analyst needs to measure their words now, considering that Retribution might just get back at them.
They have a quirky sense of humor
History is proof of the fact that humor is a much-needed ingredient for any successful talker. Be it Dwayne Johnson, John Cena, or CM Punk, humor was an essential part of their verbal arsenal.
In their own unique way, Retribution has used humor to their advantage. These are not the jokes that you'll hear on your social media meme pages. However, they are hilarious nonetheless.
T-BAR tried to explain why the group doesn't allow comments on their posts. As per him, he wants critics to embarrass themselves by retweeting their posts!
Can Retribution save themselves?
One thing is certain – Retribution has done a better job than WWE writers in booking themselves. Their social media shenanigans have given WWE a fighting chance even with their most absurd ideas.
They have created a buzz around themselves with their creative use of Twitter. After the storm they've caused online, even the most dejected fan would want to tune into Raw.
ADVERTISEMENT
Article continues below this ad
Unfortunately, they can't win the battle alone. WWE needs to back them up with intelligent booking. Even if they've committed blunders till now, writers can still salvage the situation going forward.
Take a clue from Retribution members and go for creative ways to build them rather than tried and tested formulas. Let fans know that this is not a tired Nexus rehash but something they've never seen.
Up till then, T-BAR, Mase, Reckoning, and Slapjack will continue setting social media on fire.
ADVERTISEMENT
Article continues below this ad
Read more – Retribution's Leader T-Bar Takes a Major Shot at AEW