Road to WrestleMania: Three Possible WrestleMania Opponents For WWE Champion Bobby Lashley
Published 03/02/2021, 7:10 AM EST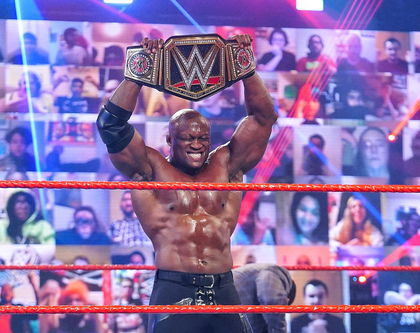 ---
---
Following a long wait, Bobby Lashley became the WWE Champion after downing a devious Miz. The change comes merely one month before WrestleMania 37, and it is natural for fans to wonder where the WWE creative would go with the WWE title match.
ADVERTISEMENT
Article continues below this ad
Between Lashley and WrestleMania stands the Fastlane pay-per-view. While The Miz might try to reclaim his title there, it is unlikely that he will win.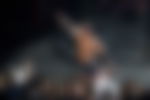 Multiple reports have stated that WWE will be pitting Miz and John Morrison against Bad Bunny and Damian Priest. Hence, The Miz is most likely out of the title scene for now. With that in mind, let's take a look at the probable WrestleMania plans for Lashley.
ADVERTISEMENT
Article continues below this ad
Possibility #1: Bobby Lashley vs Drew McIntyre
Drew McIntyre is still recovering from two crushing losses. While he unceremoniously lost his WWE title to The Miz at TLC, his long-time best friend Sheamus also betrayed him.
However, McIntyre will leave no stones unturned to claim his rightful spot at WrestleMania. "There's no way I'm not gonna work my way into that main event of WrestleMania," he said.
He wanted to go to this year's WrestleMania as Champion, but Bobby and Miz screwed that up.
Bobby Lashley had also expressed his desire to face McIntyre, calling him the best superstar on the current WWE roster. If WWE wants to make the match more interesting, they might turn it into a triple threat.
Sheamus is still not over his rivalry with McIntyre. As a former WWE Champion and one of the top stars of the roster, the "Celtic Warrior" also has a decent claim to the title.
Hence, WWE creative might want to settle everything once and for all with the triple threat match at the grandest stage in wrestling.
Possibility #2: Dream match between Bobby Lashley and Brock Lesnar
Fans have wanted Bobby Lashley vs Brock Lesnar since they both came back to WWE. Not only have the Superstars had a similar WWE career path, but they have also enjoyed successful Mixed Martial Arts careers.
In the past, Lashley issued multiple challenges to Brock but never got a response. Lashley knows that fans want them both in the ring.
"As much as the fans want to see this match happen," Lashley explained.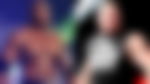 "I got to take into consideration Brock has to do his business the way he wants to. We never had that opportunity to get in and have that match. Hopefully, the stars align for both of us."
Notably, Lesnar had left the company after his contract expired last year. There is no news regarding him re-signing with WWE. However, if WWE manages to pull this off, it will ensure a great audience for the company.
Possibility #3: Kofi Kingston main events again
This might seem a little strange at first, but there is a plausible reason for it. After losing the RAW Tag Team titles to Lashley's Hurt Business colleagues, Kingston has been mostly out of the title scene.
Although Kingston was a part of the RAW Elimination Chamber match, he failed to win it. Following the heel Lashley's win, Kingston was not too thrilled and replied with an "ok" on Twitter.
As one of the top babyfaces of Raw, Kofi could continue his Tag Division feud with Lashley as he tries to talk some sense into him.
ADVERTISEMENT
Article continues below this ad
Honorable mentions – AJ Styles and Braun Strowman
Braun Strowman and AJ Styles are good opponents for Lashley. Both of them complain about how WWE officials are pulling them down by not putting them in the title scene. Nothing is fixed for them so they might appear in a triple threat or a fatal four-way match for the title.
What do you think could be a potential match apart from these three? Let us know in the comments below.
ADVERTISEMENT
Article continues below this ad