"Roman Reigns Is an Arrogant, Over Protected Gimmick" – John Cena Gets Brutally Honest About His SummerSlam Opponent
Published 07/19/2021, 8:48 PM EDT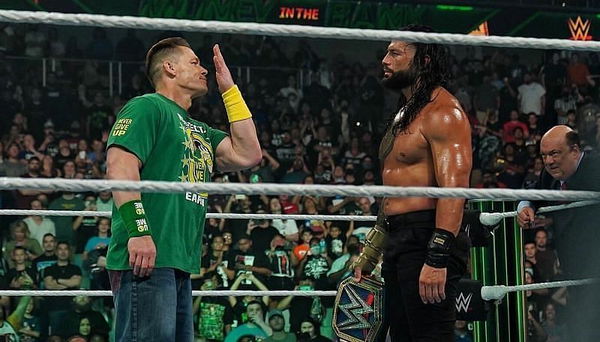 ---
---
As announced earlier, WWE icon John Cena opened the show on Monday Night RAW's post-Money in the Bank edition. He cut a scathing promo, chronicling the reason behind his homecoming and had some choice words for Universal Champion Roman Reigns.
ADVERTISEMENT
Article continues below this ad
After the usual introductions, Cena directly addressed the crowd at the American Airlines Center in Dallas, Texas. This is RAW's first live event after a long time. He again hyped the crowd for a big pop.
'The Leader of the Cenation' confessed he was back because of the live crowd. He loved the confusion, the chaos, and the electricity of the audience. Cena now turned to the various questions after his return.
ADVERTISEMENT
Article continues below this ad
Cena said both the live fans and the tyranny of Roman Reigns brought him back. "WHAT am I here for? The Universal Championship. WHEN? About five weeks from now at SummerSlam," Cena confessed to a huge pop.
He mentioned there are various reasons why he chose SummerSlam. The reasons varied from headlining a "record-breaking SummerSlam event, a record-breaking 17-time championship win, but it's not because of that. In reality, it's because Reigns is an a****le."
Cena said, "this pathetic Roman Reigns Experience has gone on long enough. Roman Reigns is an arrogant, self-absorbed, over-hyped, over-protected, over-exposed gimmick who's not as over as he says he is, and that is coming from me."
He said if someone was really that good, the people will acknowledge them, but Roman Reigns was not. Cena said he would be at Friday's SmackDown to meet Reigns face-to-face.
Watch this story – The Most Thrilling Returns of WWE Legend John Cena
John Cena shared a moment with Riddle
As the crowd applauded Cena, The Original Bro made his way into the ring for his match. An awe-struck Riddle shared a hilarious moment with John Cena.
After his entrance, Cena greeted him with a smile and the duo shared a "Bro! Bro?" exchange on the mic. The segment ended with Cena giving Riddle a fist bump, then making his exit from the ring.
ADVERTISEMENT
Article continues below this ad
Riddle was all smiles as his music started back up. The segment ended with him waiting for his Tag Team partners, Viking Raiders, for the opening match.
Let us know your thoughts on the return of John Cena on RAW in the comments below.
ADVERTISEMENT
Article continues below this ad