When you have a professional wrestling legend with the experience of Samoa Joe, you should be having him battle it out in the ring week after week, till he can still go. However, WWE has been doing exactly the opposite.
For months now, Joe has been helming the commentary desk with Byron Saxton and Tom Phillips. To be honest, he has done a tremendous job as a color commentator.
However, fans don't pay to see the Samoan Submission Machine call the action. They pay to see him be a part of the action and break some bones.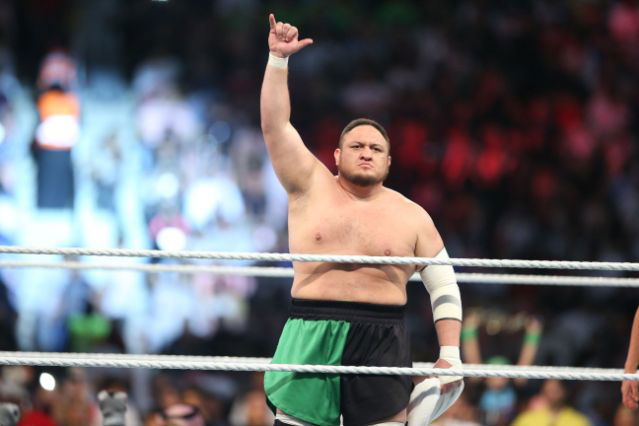 Up till now, the reason being given was that he still isn't medically cleared to compete. The latest edition of Raw indicates that that might be changing pretty soon.
Samoa Joe drops major hint for wrestling return
This week on Raw, The Monday Night Messiah Seth Rollins found his new victim. He berated WWE announcer Tom Phillips for being a biased journalist.
As per him, Phillips favoured Dominik Mysterio last week when the latter battered Rollins with a kendo stick. Obviously, that wouldn't go unavenged.
As Rollins was approaching Phillips, Samoa Joe stood in his tracks. The Samoan Submission Machine declared that he won't let Rollins attack his colleague like this.
.@WWERollins wanted to make @TomPhillipsWWE pay, but @SamoaJoe quickly made those plans go *poof*!#WWERaw pic.twitter.com/bXEZbJ4Knv

— WWE (@WWE) August 4, 2020
Read more – Dominik Reveals Bizarre Idea to Avenge Rey Mysterio
If that wasn't obvious enough for Rollins, Joe threatened that he would slap him across his lips. Seth warned Joe that it won't end well for him.
However, the angry Samoan knew what he was getting into and accepted the challenge. As we came back from commercials, we saw Rollins and Murphy threatening Joe with chairs in hand.
However, out of nowhere, Dominik returned with a kendo stick and again punished Rollins and his disciple.
Sadly, this meant that we couldn't see Samoa Joe get in on the action. This might mean that he still isn't cleared to return to action.
However, if we are to believe Dave Meltzer, people backstage consider Joe to be a permanent replacement for Jerry Lawler on the Raw commentary both.
As good as Joe is in his job, that would be disastrous. He still has a lot of wrestling left in him and there are many dream matches still waiting to happen.
He still hasn't had the much anticipated rivalry with John Cena. In addition, there is the mouth watering concept of a Keith Lee-Samoa Joe feud.
WWE shouldn't waste such a bright talent on their hands.
SOURCE: Sportskeeda, WWE Twitter