WWE Teases Romantic Storyline Featuring Rey Mysterio's Daughter
Published 09/29/2020, 11:37 AM EDT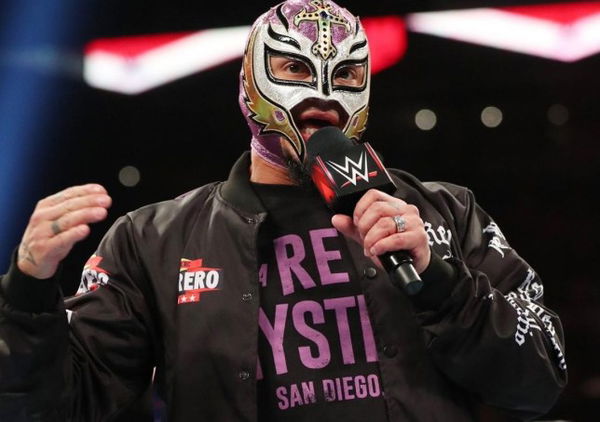 ---
---
The Mysterio family has been making headlines, especially because of what's brewing between Buddy Murphy and Aaliyah Mysterio. It may be a budding romance or just another story that ends in betrayal. Nonetheless, the audience is noticing it, and it might just be here to stay. However, Rey Mysterio is not happy with this story.
ADVERTISEMENT
Article continues below this ad
Playing the devil's advocate, Seth Rollins made quite the reveal at the latest episode of Monday Night Raw. He claimed that Aaliyah Mysterio was definitely not telling the truth. Of course, he came prepared with evidence. Following his claim, he revealed a screenshot of the chat between Aaliyah Mysterio and Buddy Murphy.
ADVERTISEMENT
Article continues below this ad
The Mysterio family did not react positively, which was expected. In fact, Aaliyah Mysterio left the ring and walked backstage with her parents following closely behind.
At the backstage, Murphy confronted Seth Rollins. However, the latter believed that it was crucial to keep the truth out in the open. Following this, Murphy and Dominik Mysterio got into a backstage fight.
Rey Mysterio gets constantly triggered
Now, two consenting adults having a conversation would not have been a problem if there weren't any existing ongoing issues. The only reason why Seth Rollins could have revealed this chat is to break the unity of the Mysterio Family.
ADVERTISEMENT
Article continues below this ad
Rey Mysterio has been constantly triggered by Seth Rollins and Buddy Murphy. On one hand, Rollins was indicating that Aaliyah might not be Rey Mysterio's daughter. On the other hand, he did not appreciate his nineteen-year-old daughter having a romantic connection or even a conversation with thirty-two-year-old Buddy Murphy.
Therefore, Murphy showing concern towards his daughter, and she reacting positively to it is a potential trigger for the Mysterio family. This particular advancement in the Mysterio family storyline could lead to a full-fledged romantic storyline between Aaliyah Mysterio and Buddy Murphy.
Moreover, considering that this storyline has been spoken about at large within the WWE Universe, the company might just put it into motion.
ADVERTISEMENT
Article continues below this ad
It is becoming increasingly difficult to understand where Aaliyah Mysterio truly stands. She slapped her brother, Dominik Mysterio, following his fight with Buddy Murphy. WWE needs to make up its mind about the storyline featuring Aaliyah Mysterio.