WWE Universe Loses its Mind After Shane McMahon Introduces RAW Underground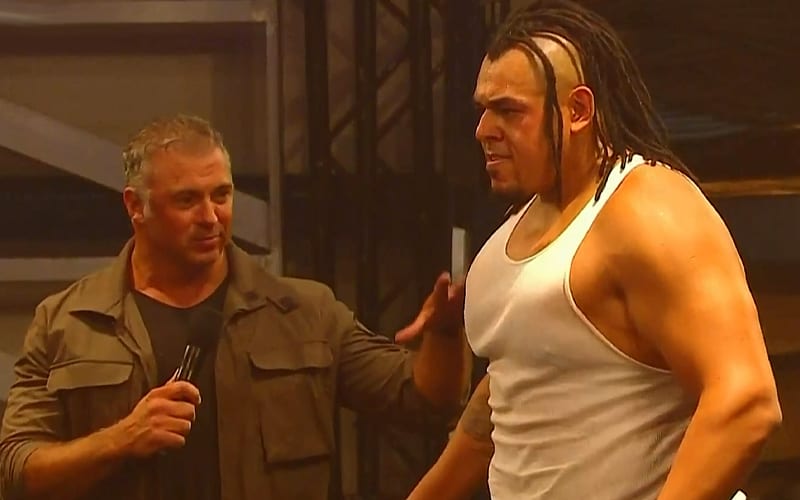 [video src="https://twitter.com/BenAxelrod/status/1290467184754466816?s=19"][video src="https://twitter.com/Kazeem/status/1290483496712986624?s=19"]
The first rule of fight club is that you don't talk about the fight club. However, the fight club introduced by WWE's own Tyler Durden in Shane McMahon is already on the WWE Universe Twitter feed.
If you think I'm the only one who's making jokes after witnessing the latest episode of Monday Night Raw, you should really check social media. Let me first give you a primer of everything that happened after Shane McMahon's WWE return.
Since the start of the show, a big announcement was being hyped up. While internet was abuzz with rumors of a new faction showing up, what happened was something completely unexpected.
Now, all of us knew about Shane's passion for MMA (didn't translate into skill, you should see him throwing punches). We never really thought it would amount to anything.
Read more – WWE RAW Sees a Massive Tag Team Reunion
However, as the show was going on, the camera cut backstage to what looked like a creepy garage which is a hub of drug trade. There was a ropeless ring surrounded by blood-hungry fighters looking to get their hands dirty.
Shane was the hype man with a mic in his hand, giving everyone an opportunity to fight it out. Initially, WWE Performance center trainee Babatunde dominated opponents. You might remember him from WWE's Greatest Royal Rumble in Saudi Arabia.
Welcome to #RawUnderground! 😲@shanemcmahon is changing the game on Monday nights!#WWERaw pic.twitter.com/kkTSns0t2i

— WWE (@WWE) August 4, 2020
Through the course of the night, we also saw Dolph Ziggler beat a man black and blue on Raw Underground. However, the ultimate climax cand at the end of the show.
The Hurt Business came out to declare that Raw Underground was under their control now. It wasn't plain talk as they took out literally everyone in the area.
All we need now is for Brock Lesnar to come out and let them know who the boss of legitimate fighting is.
Twitter is confused by WWE Raw Underground
Twitter was heavily polarized by Raw Underground. While some appreciated the company for trying out something new, others were all over the idea for being a cheap UFC rip-off.
I know a thing or two about the underground.

I competed under similar rules previously against many savages.

Among them…

A Hungry Bulldog.

The Hardcore King.

The First Beast.

A Vicious New York Gakusei…

And a Lunatic Fringe.#RawUnderground

— ⏳ Karrion Kross ❌ (@WWEKarrionKross) August 4, 2020
In kayfabe I'd like to think that RAW Underground is the result of Shane McMahon having a gambling problem and this is some sort of misguided effort to pay off his debt by running shoot fights with the Performance Center talent.#WWERAW @WrestlingInc pic.twitter.com/fvcQDuALEn

— Glenn Rubenstein (@GlennRubenstein) August 4, 2020
Shane McMahon after watching fight club for the first time last night. #WWERaw #RawUnderground pic.twitter.com/b0SLf4aYCw

— Ashlee (@_itsashleeee_) August 4, 2020
The fuck is Shane running an underground, illegal fight/strip club? 🤨 #WWERAW

— ❌CULT OF PERSONALITY❌ (@JsmallSAINTS) August 4, 2020
#RAWUnderground is automatically trash if this man isn't apart of it and starts an undefeated streak. #WWERAW pic.twitter.com/UjHDO64IRl

— Myles M (@TheBacardiPapii) August 4, 2020
Fans: "Omg WWE needs some new ideas, the main roster is so boring"

*WWE introduces a new idea*

Same fans: "OMG WHAT IS THIS SHIT, THIS LOOKS SO TRASH I CAN'T BELIEVE THEY'RE THIS DESPERATE FOR RATINGS!"

Take it away Daniel. #WWERaw pic.twitter.com/zegK6PVGFe

— Fiending For Followers ‼️ (@Fiend4Follows) August 4, 2020
This guy has broken The Internet! #RawUnderground #WWERaw pic.twitter.com/xLlUQufEFK

— Utkarsh Chaudhary (@HhhUtkarsh) August 4, 2020
SOURCE: WWE Twitter