WWE WrestleMania Spoilers: Major Title Changes, Returns, and More
Published 04/10/2021, 7:30 AM EDT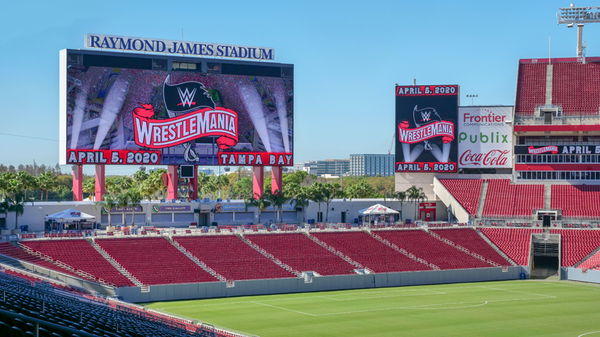 ---
---
WrestleMania 37 is only a few hours shy from becoming a reality. The spectacle with live fans (the first time since the COVID-19 pandemic) is sure to garner a lot of attention at Raymond James stadium.
ADVERTISEMENT
Article continues below this ad
The event, spread over 2 nights, has a total of 14 matches with 7 each night. Hence, there are a plethora of rumors surrounding the matches, returns, and winners. We have chosen and picked the most plausible (yet shocking) ones for you to keep a reminder of.
#5 Return of Becky Lynch
ADVERTISEMENT
Article continues below this ad
The latest rumor on the market is that 'The Man' will make a comeback to WWE after almost a year. Lynch relinquished her title at last year's WM and went on maternity leave.
She gave birth to her and Seth Rollins' daughter in December and is ready to make a comeback. Lynch even sent out a cryptic message to the fans, teasing her return.
#4 Bayley and "Ding Dong, Hello" go to WrestleMania
Continuing the last rumor, Becky Lynch will return in a segment of Bayley's talk show, 'Ding Dong, Hello!' Ahead of this, there was no reason WWE did not book one of its most prolific superstars for WrestleMania.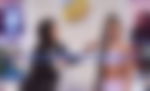 Bayley also teased about "stealing the moment" in an interview with TalkSport. "Even if there was something, I don't know if I would tell you guys to spoil it," Bayley said. "I'll be here for a long time. I might just jump the barricade and steal my own moment if they won't give me one. I'll just steal it."
#3 What is the Role of Reginald?
The former sommelier of Carmella has aligned himself with the Tag Team Champions. But we don't know what is his true motive. Initially, there were plans for a battle royale on the first night to determine the number of contenders for the Tag Team titles.
But after last night's SmackDown, a total of five teams will go up against each other in a 'Tag Team Turmoil' match on night 1. The winner of the match will face Jax and Baszler on night 2 of Mania.
In those five teams, there is the team of Reginald's former boss Carmella and Billie Kay. There is a high chance Jax and Baszler will lose the titles and Reginald will play a role in that. He is new and is known to change allegiance whenever it fits.
Is he still loyal to Carmella? Or is he trying to sabotage Jax and Baszler under someone else's influence?
#2 Rhea Ripley Wins the RAW Women's Title
Asuka has held on to the Women's Title since last year, and fans want someone new. When Rhea Ripley transitioned from NXT to the RAW roster, she was pitted against Ripley.
Last year, Ripley was a part of WM as the NXT Women's Champion, but she lost the title to Charlotte on night 2. This year is not only her retribution, but she also has a good chance of winning the RAW Women's title.
Maybe, after her win, a returning Becky Lynch will attack her, starting a new rivalry from where Lynch left.
#1 Major World Title changes
There are high chances that both Universal and WWE titles will change hands (per BET online). Last year, Drew McIntyre might have won the WWE Title at WrestleMania 36, but he did not get any momentum because of the absence of fans.
WWE might want to replicate the same effect as a babyface McIntyre wins the title from heel Bobby Lashley. They are the opening match of the event and are sure to grab the attention of the fans.
For the last match of the event, we will have the much-awaited triple threat match between Roman Reigns, Edge, and Daniel Bryan. Reigns has also held on to the title since last summer. His cousin Jey Uso or Paul Heyman often aid his title defenses.
Edge, on the other hand, will complete a decade of his retirement at night 2 of WrestleMania. As the 'Rated-R Superstar' has proclaimed from time and time again, the title is more of a testament to his endurance and hard work. If Edge wins the title, it will be poetic justice.
Special mentions –
This would be the first time in three decades that Undertaker will fight at the grandest stage of them all. As Undertaker retired in front of a virtual crowd, we expect some form of "The Deadman" to be there during Mania.
Maybe, his music will be played, or he might appear briefly, but WWE might give the fans a last chance to see/feel his presence. Apart from him, John Cena too might appear briefly, as he did during WM 35.
ADVERTISEMENT
Article continues below this ad
Last but not the least, Chris Jericho has uploaded a picture on his social media with a WWE jet in the background. This, along with Jericho's recent appearance on Stone Cold's podcast, sparked rumors on whether the Le Champion will be in attendance for WrestleMania 37.
Let us know your thoughts and some of your speculations in the comments below.
ADVERTISEMENT
Article continues below this ad