AJ Styles' Bodyguard Omos Shows Insane Strength, Tosses Kofi Kingston over the Barricade
Published 03/30/2021, 12:08 AM EDT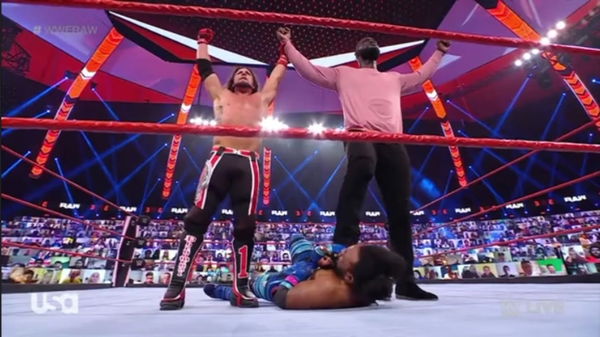 ---
---
The WWE Universe has seen Omos compete several times mow. However, once in a while, he shows off his immense strength with an act which shocks the entire WWE Universe!
ADVERTISEMENT
Article continues below this ad
On Monday Night Raw: March 29, 2021, AJ Styles and his bodyguard faced Kofi Kingston and Xavier Woods. It should be noted that prior to this in-ring face off, Woods and Kingston did certain shenanigans backstage which did not sit well with Omos; in fact, he asked them to stop.
Coming to the match, there was a moment when Omos did not hold back his strength. He picked up Kofi Kingston and threw him across the barricade and into the screens. He left the fans in a state of utmost shock after displaying this unreal feat of strength.
ADVERTISEMENT
Article continues below this ad
Apart from that, there was another moment where the giant twisted Xavier Woods' leg to send him flying back inside the ring. What is admirable is that Omos does all of it without having to use all his strength.
It's only a matter of time before he pulls off another move which will shock everybody watching.
Now, the feud has made its way to WrestleMania. The New Day will face AJ Styles and Omos for the WWE Raw Tag Team titles.
Moreover, the match gave us a glimpse of what the WWE Universe can expect from the two tag teams at WrestleMania.
Omos has showed his strength previously
Omos has been standing by AJ Styles for months now. The first time when Styles introduced the giant to the Universe, everyone was curious to know the future of this duo.
He helped Styles at Elimination Chamber when he ripped the pod from outside.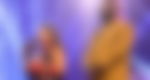 On another occasion, Omos destroyed Ricochet by delivering a double handed chokeslam to the high-flyer. This brutal display of raw power shocked Styles as well.
ADVERTISEMENT
Article continues below this ad
Now that they are going to work together as a tag team, it's going to be a whole new experience for the fans.
If all goes according to Styles' plans, he will become unstoppable with the giant by his side. In fact, Omos does justice to the word 'giant' and has been compared to some other WWE giants regularly.
However, Styles should be careful with his partner. If Omos can help Styles win matches, he can bring him down just as easily. It's time for Styles to treat him as an equal.
ADVERTISEMENT
Article continues below this ad
Trending Stories