Adam Pearce Steps Down as The Challenger – New Opponent For Roman Reigns Revealed on WWE SmackDown
Published 01/15/2021, 11:12 PM EST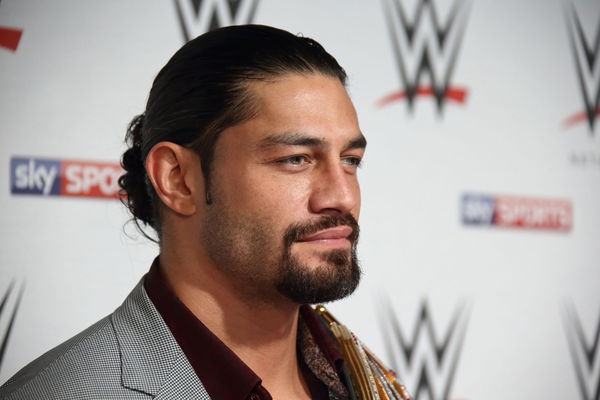 ---
---
One of the main events of tonight's SmackDown (15/1/21) was the contract signing between WWE Universal Champion Roman Reigns and WWE official Adam Pearce for the title match at Royal Rumble 2021.
ADVERTISEMENT
Article continues below this ad
However, not only did Pearce find a way out of the match but also got a new surprise opponent for Reigns at the very end of the show.
The show opened with a backstage segment between Paul Heyman and Reigns. Heyman said how the match was a bit bland and needed a stipulation to make things interesting. With the stipulation, Reigns could also "teach" Pearce a lesson on fear and respect.
ADVERTISEMENT
Article continues below this ad
Heyman then took the contract from Reigns to Pearce. Sonya Deville and Pearce were discussing their strategy as Heyman walked in. He tried to convince Pearce to make the match a No Disqualification match so that Pearce could take full advantage of this once-in-a-lifetime opportunity.
Pearce, annoyed with Heyman, signed the contract. He said that the contract meant Pearce will get hurt and Reigns want that. He gave the contract back to Heyman.
In the champion's lounge, we see Roman with former Intercontinental Champion Apollo Crews. 'The Tribal Chief' refused the contract as he wanted a Last Man Standing instead of the previous stipulation. Reigns opted for the contract signing at the end of the show.
Roman Reigns gets a new opponent for Royal Rumble 2021
In the last segment, Paul Heyman, Roman Reigns, and Jey Uso made their way first before Pearce joined them. The match would be a Last Man Standing match.
ADVERTISEMENT
Article continues below this ad
Both men sat as Reigns took the seat at the head of the table. Adam Pearce signed the contract as Roman proclaimed, "That's gonna be the last contract you'll ever sign."
ADVERTISEMENT
Article continues below this ad
Reigns signed the contract and Pearce said he waited all night for Reigns to do that. A confused Roman looked on as Pearce exited the ring.
As Pearce was leaving, he started limping. Pearce stopped and revealed how his legs had been hurting all day. It must be one of those old injuries from his NWA days that caught upon him at the worst possible time.
However, the standard WWE contract covered everything and as a WWE official, Pearce reserved the right to find a suitable replacement for the title match. Out came Kevin Owens.
Owens signed the contract to replace Pearce and became Reigns' new contender at Royal Rumble 2021. Both Pearce and Owens smiled as Reigns fumed inside the ring.
WWE could have brought in someone else instead of Owens, but they wasted the opportunity and turned the match into a rematch. Hopefully, the Royal Rumble match would be worthwhile for both men.
What did you think of Kevin Owens as the new contender? Let us know in the comments below.