Aleister Black Makes an Explosive Return on WWE SmackDown
Published 05/22/2021, 12:20 AM EDT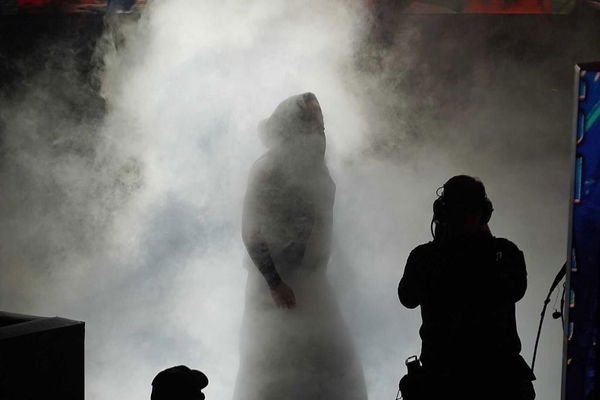 ---
---
After weeks of vignettes and promos, Aleister Black finally emerged from the shadows to reclaim his position in the SmackDown status quo. On the main event of this week's SmackDown (5/21/21), Black re-debuted on the blue brand.
ADVERTISEMENT
Article continues below this ad
This week's show featured the fourth and probably final part of "Tales From The Dark Father." Titled "Chapter 4: Beautiful Pain," Black said that pain is an integral part of the philosophy of the Dragon.
With the focus on Black's tattoos, he spoke about how pain shapes a person. However, people have become ignorant of their own sins. "You all live proudly in your cesspool of sins and denial because it's all you are, it has become your identity, to be lonesome and blind.
ADVERTISEMENT
Article continues below this ad
"You are sick and dying animals and it is time for me to separate the weak from the strong, as father taught me. It is time to cull the herd," Black ended the vignette with a warning.
Aleister Black made his much-awaited debut on WWE SmackDown
After the promo, nothing remarkable happened in the main event. Appolo Crews defended his Intercontinental Championship against Big E, Sami Zayn, and Kevin Owens in a fatal four-way match.
Big E almost closed in on the win as the environment in the ThunderDome changed. Lights went dim and fog filled up the arena as Black slowly emerged from the darkness.
Big E was distracted with the guest in the match and Crews capitalized on that distraction to hold on to E's leg. Black then hit a Black Mass kick on E, allowing Crews to pin him.
ADVERTISEMENT
Article continues below this ad
He then walked off the squared circle into the ramp and looked back at the ring as SmackDown went off the air. This was Black's first appearance since October 12, 2020, when he lost to Kevin Owens and got drafted to the blue brand.
There are no words on the upcoming storylines for Black. Nevertheless, it seems he could be going for the Intercontinental title or a feud with Big E. Ahead of his move to SmackDown, Black was getting ready for a "push."
Do you think Black's push will happen now? What could his new gimmick be? Let us know your thoughts on Black's debut on SmackDown in the comments below.
ADVERTISEMENT
Article continues below this ad