Big E Taken Out of the ThunderDome in an Ambulance Following a Vicious Attack From Apollo Crews
Published 02/19/2021, 11:07 PM EST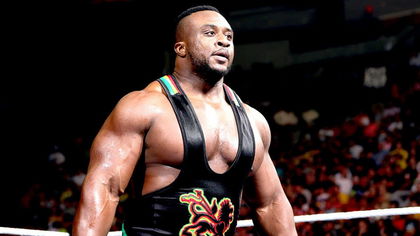 ---
---
Things turned sour for WWE SmackDown's resident positive powerhouse this week (02.19.21). WWE Intercontinental Champion, Big E, was taken out from the ThuderDome on a stretcher after former Champion Apollo Crews viciously attacked him.
ADVERTISEMENT
Article continues below this ad
Big E was a guest commentator during tonight's Shinsuke Nakamura vs Apollo Crews match. Last week, Crews interrupted E's match with Nakamura, ending it in a disqualification.
Before the match, Crews denounced his friendship with Big E as the latter treated Crews like a "charity case". Crews talked about his royal Nigerian ancestry, and how he will make Big E suffer for his lack of respect.
ADVERTISEMENT
Article continues below this ad
During the match, Crews hurled Nakamura towards Big E whenever he got the chance. In the last instance, Crews interrupted the Champion's footbath, which prompted him to warn Crews once and for all.
However, the story was far from over. Nakamura got a sudden victory after pinning Crews out-of-nowhere. This loss sent Crews into a frenzy as he attacked his opponent after the match, turning heel in the process.
Apollo Crews punishes Big E on WWE SmackDown
After the attack, Crews proceeded to pull out half of the ringside steel steps. Big E intervened and yelled at Crews to put it down and leave the ringside.
Although it seemed Crews obliged to Big E's commands, he came back to attack E with the steps. He hurled the steps onto both Nakamura and E, knocking both of them down.
Crews kicked him and brought E back to the ring with the steel steps. As the referee tried to dissuade Crews from doing anything drastic, E slipped down the ropes into the ground.
As the official pleaded with Crews to put the steps down, he simply put them above his head and threw them outside the ring where Big E was. Although we did not see it, it seemed that the steps hurt the back of E's neck.
ADVERTISEMENT
Article continues below this ad
The medical team rushed to the ringside and tended to Big E. Soon, a stretcher was called out and Big E was carried from the ringside. We saw the last of him when Sonya Deville escorted E out of the ThunderDome with an ambulance.
As of now, we have no updates regarding Big E's medical condition.
ADVERTISEMENT
Article continues below this ad