Edge Tricks Seth Rollins, Ambushes Him on WWE SmackDown
Published 07/23/2021, 10:03 PM EDT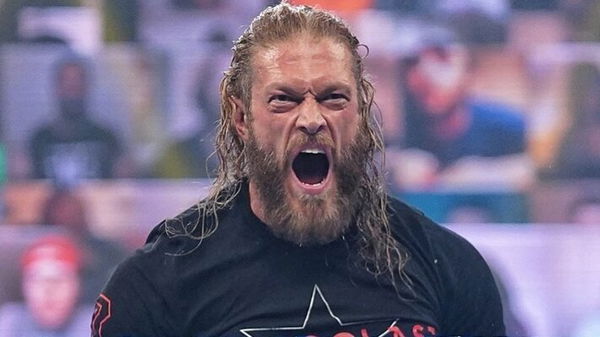 ---
---
WWE Hall of Famer Edge was on the verge of making history at Money in the Bank. He almost made the WWE Universal Champion Roman Reigns submit. However, Seth Rollins attacked Edge and stopped that.
ADVERTISEMENT
Article continues below this ad
Tonight on SmackDown (7/23), Edge finally addressed the crowd after the unfortunate events at MITB. He welcomed the Cleaveland crowd and started talking about his career.
The Rated R superstar said that the fans already knew his history. They also knew Edge would have been the champion if it was not for Seth Rollins.
ADVERTISEMENT
Article continues below this ad
Edge thought this time he had finally outdone The Bloodline with the help of The Mysterios. But he never thought Rollins would come down to attack him, instead of Roman Reigns.
He referred back to his and Rollins's first interaction in 2014 when the Kingslayer attacked The Hall of Famer on an episode of 'Cutting Edge.'
Rollins started the feud then. But he never thought Edge would be back for revenge."So here we are. Seth, you have no inkling of the Pandora's Box of violence and mental pain you've opened," Edge said.
"I've learned from the most evil minds in the history of this industry. I was in The Brood. I was in The Ministry of Darkness. You have no idea the depths that I'll sink to get the job done. But you're going to find out.
Watch This Story – Most Powerful Moments of WWE Legend Goldberg
Seth Rollins responded to Edge on SmackDown
The Kingslayer came down and confronted the Hall of Famer. He laughed at the idea of Edge being in his way as the latter was not the superstar he used to be.
The Rated R superstar coerced Rollins to come down to the ring as he promised he would not do anything to 'hrm' Rollins. While Rollins knew better than to trust the 'Ultimate Opportunist,' yet he entered the ring as Rollins was not afraid.
Rollins went on to talk about how he would complain and despise the 'part-timers' who showed up once in a while. But with Edge, it was different.
Rollins was glad that he was here and calling Seth out because he wanted to be the one to crush Edge's dreams. However, this time at SummerSlam, when Rollins stomped his boot on Edge's neck, Seth wouldn't hesitate to crush Edge's neck.
ADVERTISEMENT
Article continues below this ad
Seth Rollins seemed to have strikes a chord. "Remember what I said about not doing anything to you? I'm a liar," said Edge and attack Rollins. Edge was getting ready to hit the Spear but Rollins rolled out of the ring to safety.
ADVERTISEMENT
Article continues below this ad
The match is set for WWE SummerSlam as both men get ready for an epic showdown. Let us know your thoughts in the comments below.