"I'm Not You" – Bianca Belair Mocks Bayley Following Her Win at WrestleMania Backlash 2021
Published 05/17/2021, 1:18 AM EDT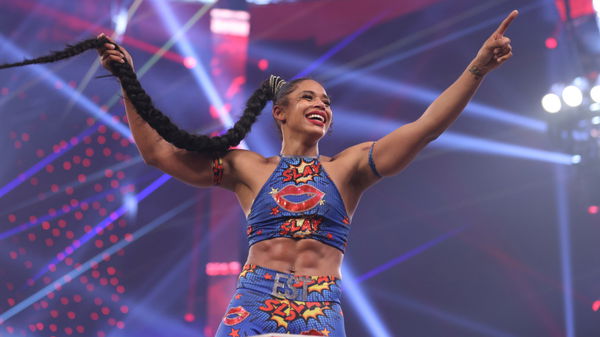 ---
---
WWE SmackDown Women's Champion Bianca Belair proved once again why she is the 'Best in WWE.' Belair defeated Bayley with the help of her iconic hair whip at WrestleMania Backlash.
ADVERTISEMENT
Article continues below this ad
Ahead of their bout, Bayley revealed why she never liked Bianca. Surprisingly, Bayley feels that Bianca strongly resembles the farmer's erstwhile "hugger" character. As a result, Bayley felt the urge to subdue and snap Bianca out of her "fairytale title reign."
After defeating her opponent, Bianca went on Twitter to taunt and tease Bayley a bit more. She wrote, "𝒽𝒶𝓅𝓅𝒾𝓁𝓎 𝑒𝓋𝑒𝓇 𝒶𝒻𝓉𝑒𝓇…. Your SmackDown Women's CHAMPION! Fairytales do come true @itsBayleyWWE I'm not you and you not me. Remember that!"
ADVERTISEMENT
Article continues below this ad
The 'Role Model' is yet to react to the 'EST's comments on Twitter. This was also Belair's first title defense after her title win at WrestleMania 37 in April.
Bianca Belair uses her hair whip to defeat Bayley
In terms of athleticism, there is no doubt that Belair is one of the top stars in WWE right now. But her brute strength did not get her all this success.
From an early stage in her career, Belair was able to create and develop her own brand. Be it the long braid or the bedazzled clothing and jewelry, she is easily recognizable. Even today, she has more points on relatability than anyone else.
After a hard-hitting battle, Bianca performed a Spine buster, and her opponent gave Belair a "Bayley to Belly." As Bayley went for the Rose Plant, Belair rolled her up and used her iconic braid to pin her opponent.
While Bayley used multiple 'tactics' to defeat Belair, none of them worked. Bayley threw a fit following the match, as she was unable to cope with the loss.
ADVERTISEMENT
Article continues below this ad
"Bayley is a hater," Belair told WWE following the match. "Imagine accomplishing as much as Bayley and still finding time to hate on me, but I get it. She says she sees herself in me but she just wants to be me, the SmackDown Women's Champion."
Now, Belair's goal is to become the longest-reigning SmackDown Women's Champion and topple Bayley off the list. For Belair, "fairytales do come true," and she would not encourage negativity as Bayley does.
ADVERTISEMENT
Article continues below this ad