"I've Been Carrying The Damn Company For Years Now!" – Roman Reigns Makes A Huge Statement on WWE SmackDown
Published 01/22/2021, 9:08 PM EST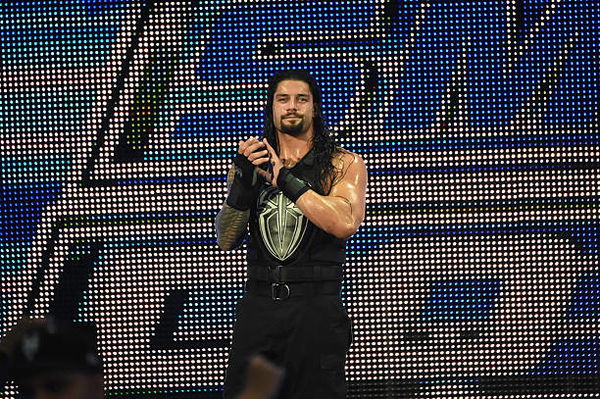 ---
---
Things are heating up in the Universal title scene right before Royal Rumble 2021. Not only did Roman Reigns call out the entire locker room, but he also 'fixed' a match.
ADVERTISEMENT
Article continues below this ad
On tonight's edition of WWE SmackDown (22.1.21), the show opened with a scathing promo from the 'Tribal Chief'. Notably, his cousin Jey Uso was missing from his entourage in the beginning.
A 'you suck' chant broke out before Reigns' promo as he raised the title. He said Kevin Owens would not address the crowd tonight because Reigns said so.
ADVERTISEMENT
Article continues below this ad
He then spoke about the card 'subject to change' clause of the contract. The Chief said even though many think Adam Pearce and Kevin Owens outsmarted him, the clause was for losers.
He bragged about how he never missed work, missed no appearances, and labeled that as the reason he got to the top of WWE. Moreover, he took time off earlier this year because the pandemic put his health at risk.
One week ago, Pearce said how he could not compete in the Rumble as his legs hurt. Reigns retorted saying that is nothing but an excuse, and Reigns could have a plethora of excuses of his own.
He said, "I've been carrying this damn company for years now. What if my back continues to hurt? Until next week, until next Sunday? It's the Royal Rumble!" He continued berating everyone until Adam Pearce interrupted.
Roman Reigns taunts Adam Pearce
The WWE official said how Reigns was getting out of control. However, Reigns reiterated that Adam Pearce putting Owens into the main event was truly out of control.
Pearce coming out and complaining about his body hurting made Reigns sick. Pearce hadn't wrestled in six years, yet he complained and got his way out of the title match.
"When you are sitting here, standing next to the thoroughbred of the WWE; The guy who gets it done week after week for years now! 52 weeks a year. I've done it five days a week, four days… it doesn't matter; I've done it all!
"I never complained. It never bothered. I never stopped because I bust my a** for this place. And you going to come out here and you're going to complain, you are going to whine, you're going to moan," Reigns said to the NWA Hall of Famer.
After this promo, things escalated quickly as Pearce warned Paul Heyman to not make fun of him. Reigns told Heyman how Pearce was disrespecting him and Reigns.
ADVERTISEMENT
Article continues below this ad
Heyman then made a "verbal agreement" of facing Adam Pearce later in the night to 'settle' their issues. In Florida, a verbal agreement was as good as a legal one, said Heyman. Pearce accepted the proposal and the match was official.
ADVERTISEMENT
Article continues below this ad
What did you think about the scathing promo at the beginning? Let us know in the comments below.