Kurt Angle Reveals Vince McMahon Almost Fined Him and Stone Cold $2000 for Laughing During Promos
Published 07/05/2021, 9:12 AM EDT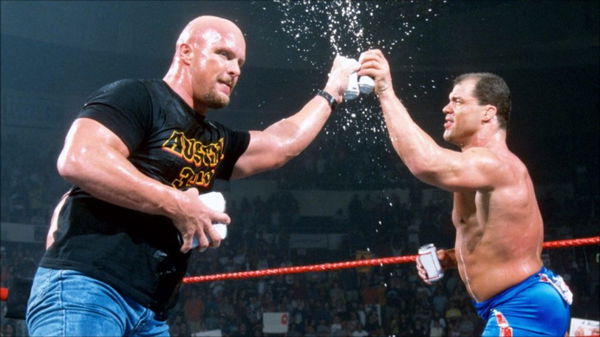 ---
---
WWE CEO and Chairman Vince McMahon is a man of his words and actions. If someone delays his pre-planned commitments, no matter who he is, Mr. McMahon does not spare anyone.
ADVERTISEMENT
Article continues below this ad
WWE Hall of Famers Kurt Angle and Stone Cold Steve Austin once faced the wrath of The Boss. Back in the day, WWE used to pre-tape certain segments. One such segment was the 'cowboy hat' promo from the July 5, 2001 episode of SmackDown.
The segment had Steve Austin gifting Vince and Kurt Angle cowboy hats. Thanks to the comic elements of the segment, the Hall of Famers kept breaking characters and laughing, prompting multiple retakes.
ADVERTISEMENT
Article continues below this ad
Angle recalled the hilarious incident on the latest episode of The Kurt Angle Show podcast. He and co-host Paul Bromwell were watching the segment.
"There were a lot of instances where, you know, we had to break the pre-tape and do it over again because we were laughing so hard. Vince was getting pissed off," Angle revealed.
Watch this story – Nunchuck, Steel Chairs and More: Lethal Weapons WWE Superstars Used in Their Matches
Vince McMahon almost fined Kurt Angle and Stone Cold Steve Austin $2000
Meanwhile, Mr. McMahon is a man of action and wanted to get over the segment as quickly as possible, so he threatened both men to a fine of $2000 for each failed take.
"Vince decided, 'Listen, if you guys continue to laugh during the pre-tapes, before I yell cut, I'm going to fine you $2000 for each one.'" Angle confessed. "So, we got really serious about the pre-tape even though they were supposed to be funny."
Vince's warning seemed to work like a charm, and both men straightened up and finished the segment a lot quicker. The segment also featured Steve Austin's valet and former Women's Champion Debra.
"We had to, you know, be more serious about what we needed to do and what we needed to accomplish. We decided we weren't going to laugh anymore, and we were able to get the pre-tapes done a lot quicker then."
ADVERTISEMENT
Article continues below this ad
Steve Austin and Kurt Angle were a part of many comic skits. Interestingly, most of their skits were unscripted and impromptu. A few years ago, Angle and Austin recreated one of their funniest skits on Broken Skulls podcast –
What were your favorite Kurt Angle and Stone Cold segments? Let us know in the comments below.
ADVERTISEMENT
Article continues below this ad