Nia Jax Furious Over Her Humiliating Spot During A Confrontation Against Sasha Banks and Bianca Belair
Published 02/13/2021, 6:45 AM EST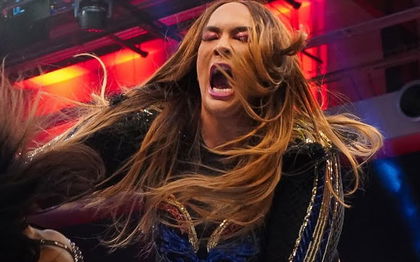 ---
---
This week on WWE SmackDown (February 12), SmackDown Women's Champion, Sasha Banks, and potential WrestleMania challenger, Bianca Belair, embarrassed the Women's Tag Team Champions. Nia Jax and Shayna Baszler learned the hard way that they should not interrupt 'The Boss.'
ADVERTISEMENT
Article continues below this ad
Sasha Banks came out to the ring and spoke about how she continued to be the Boss, in and outside of WWE. Michael Cole pitched in how Banks will be the honorary starter for the upcoming Daytona 500.
She proceeded to call Bianca her "big little sister," but she was still 'The Boss.'
ADVERTISEMENT
Article continues below this ad
Then, Bianca Belair came out and proclaimed Banks might be the boss, but she was not the boss of her. Before the two could indulge in a stronger war 0f words, the Women's Tag Team Champions came out.
Baszler and Jax demanded the attention Belair and Banks are getting as they became the two-time Tag Team champions at Royal Rumble too.
To this 'accusation', Belair and Banks had a brilliant answer. Banks said she anticipated the Tag Team champions, and she came prepared with some video evidence.
Sasha Banks and Bianca Belair embarrass Nia Jax again on WWE SmackDown
Sasha then showed two back-to-back clips from RAW. The first was when Naomi beat Shayna Baszler, and the second one is Nia Jax's now-iconic "my hole" moment from the table match with Lana.
Jax, now seething in anger, attacked the SmackDown women. Banks and Belair enacted the RAW spot as they dropped Jax to the ringside. She again screamed in pain, clutching her backside. Baszler left the ring to check on her Tag partner as the SmackDown women danced in the ring.
Following the segment, Jax took to Twitter and expressed her disdain over the SmackDown roster as well as the WWE Twitter account. See her Tweets below.
ADVERTISEMENT
Article continues below this ad
We might see Sasha Banks and Bianca Belair vs Shayna Baszler and Nia Jax next Saturday. Let us know your thoughts in the comments below.
ADVERTISEMENT
Article continues below this ad