OFFICIAL! Adam Pearce Wins The Gauntlet Match To Face Roman Reigns at Royal Rumble
Published 01/08/2021, 10:10 PM EST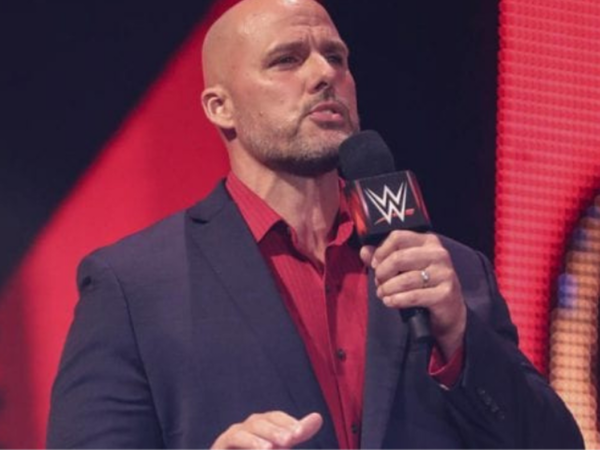 ---
---
Because of an abundance of worthy challengers, WWE officiated a gauntlet match to determine the next challenger for the Universal title. The match was the main event for SmackDown this week.
ADVERTISEMENT
Article continues below this ad
As per the rules of the gauntlet match, two wrestlers begin the match and are replaced whenever one is eliminated (by pinfall or submission). After all the wrestlers have competed in the match, the last person standing is the winner.
The participants were Sami Zayn, Daniel Bryan, Rey Mysterio, King Baron Corbin, and Shinsuke Nakamura. The match would continue until all participants have wrestled.
ADVERTISEMENT
Article continues below this ad
After a heated altercation with Roman Reigns, Paul Heyman pulled some strings and included WWE Official Adam Pearce in the match. Pearce would wrestle for the first time in six years.
Rey Mysterio (accompanied by Dominik) and Sami Zayn started off the match. Zayn came up and said WWE has conspired against him to put him in the match as the first entrant with the least chance of winning.
It seemed Zayn was right as Mysterio quickly pinned him with a 619 and a Frog Splash. Shinsuke Nakamura came out to face Mysterio next.
As the commentators pointed out, both Nakamura and Mysterio are wrestling legends in their respective countries. Both of them went head to head with each other with a classic set of moves.
Mysterio connected a 619 and a Frog Splash, but Nakamura made Mysterio tap out with an Arm Bar. After Mysterio, Baron Corbin was next.
Corbin came out, and first attacked Dominik and Rey before shifting his attention to Nakamura in the ring. Corbin and Nakamura squared off against each other.
Nakamura overpowered Corbin, but Corbin soon rammed him into the ring post. After some close two counts, Nakamura held Corbin in a triangle submission which the latter turned into a powerbomb.
However, Nakamura got the victory over Corbin with a pinfall following a Kinshasa to the face. Daniel Bryan was up next.
Shinsuke Nakamura got to the end only to be 'defeated' by Adam Pearce
Both of the men were equally brutal in their beat down of each other. Despite being in the match for a longer duration and winning twice, he showed more stealth and agility.
Daniel Bryan tried to connect with the yes lock multiple times. He even tried a suplex to pin Nakamura but failed.
After an extremely competitive match, Nakamura took down Bryan. As Bryan was preparing for a third dropkick, Nakamura nailed him with a Kinshasa for the win.
After the match, Bryan and Nakamura shook hands as Roman Reigns came down to the ring with Uso and Heyman. Adam Pearce, as the final participant in the match, reluctantly walked in.
ADVERTISEMENT
Article continues below this ad
However, Jey Uso and Roman Reigns started attacking Nakamura before Pearce could enter. Uso and Reigns destroyed Nakamura with punches and splashes.
Reigns pushed Pearce into the ring and Uso knocked him out with a kick. The duo put Pearce on top of Nakamura and continued the match. The referee counted till three, and in a shocking turn of events, Adam Pearce won the gauntlet match as Roman Reigns smiled on.
ADVERTISEMENT
Article continues below this ad
Pearce will now face Roman Reigns in the Royal Rumble for the Universal title.