Seth Rollins Files an Official Complaint Following "Flagrant Disrespect and Egregious Conduct" of the SmackDown Locker Room
Published 02/20/2021, 7:09 AM EST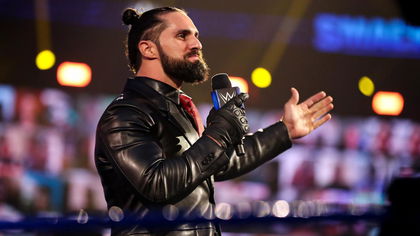 ---
---
Last week on SmackDown, the 'Messiah of WWE', Seth Rollins, made his grand return to WWE. He got his old theme back and a new gimmick termed the "Great Leader." Unfortunately, that return was lackluster given the high standards Rollins has set over the years. In fact, if we consider his last return from injury, this one trailed by a massive mile.
ADVERTISEMENT
Article continues below this ad
This week on SmackDown (02.19.21), Rollins appeared right after Big E's assault. While he shared his condolences, Rollins also emphasized why they needed a leader like him now more than ever.
He and his lawyers drafted up a formal letter to address the disrespect. He explained how he and his team spent months planning for his big return.
ADVERTISEMENT
Article continues below this ad
However, the return was ruined by a "bunch of losers." They were afraid of the millions that have already "embraced the vision" of a better tomorrow and SmackDown. He then thrashed at Cesaro for disrespecting him the most.
Following SmackDown, Rollins shared a letter addressed to WWE officials. Interestingly, the letter bashed the company for "Flagrant Disrespect and Egregious Conduct" following his return.
The letter read, "At the behest of this very office, desperate for a true leader and star of my magnitude to help lead SmackDown to new heights, I agreed to return from my personal leave and sacrificed precious moments with my loved ones."
Rollins met with "an embarrassing farce," despite spending "considerable time and energy planning this moment that should have been a triumph, an exaltation of a multi-time World champion."
Rollins ended the letter with a warning to his SmackDown peers.
"While I intend to deal with these patronizing, ungrateful so-called Superstars in my own time, I expect the full force of this office to swiftly and forcefully reprimand those who refused to embrace my vision."
Cesaro addressed Seth Rollins in a backstage segment
After being singled out by Rollins, Cesaro came up with a befitting response. He said he was hoping for the old 'Kingslayer' Rollins to come back. In that hope, Cesaro stayed till the end and not to "patronize" him.
ADVERTISEMENT
Article continues below this ad
However, like the locker room, Cesaro was also disappointed to see the old frantic Rollins back. While Cesaro did not forget what Rollins did to him, he is currently focusing on the Elimination Chamber on Sunday and a potential title shot.
We are yet to receive any response from the official's team.
ADVERTISEMENT
Article continues below this ad