Watch: Roman Reigns and Jimmy Uso Get Involved in a Heated Argument on WWE SmackDown
Published 06/11/2021, 11:53 PM EDT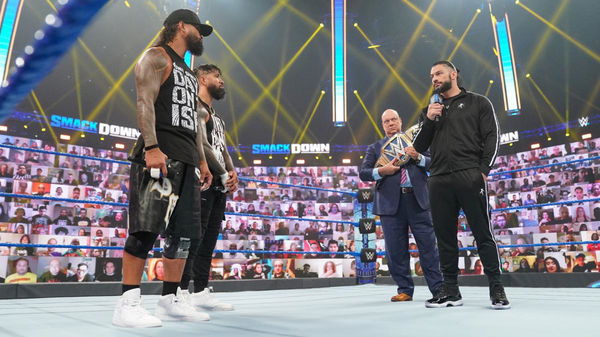 ---
---
WWE is doing a tremendous job at storytelling with The Samoan Family tensions each week. The drama between Roman Reigns, Jey Uso, and Jimmy Uso increased a bit more on this week's SmackDown (6/11).
ADVERTISEMENT
Article continues below this ad
The night opened with Jimmy Uso reflecting on last week's actions. Despite having a second chance at becoming 7-times WWE Tag Team champions, Uso said their cousin and Universal Champion Roman Reigns ruined it completely.
Not only Reigns interrupted the match, but also brutally attacked Rey and Dominik Mysterio. This led Jimmy to theorize that 'The Tribal Chief' "did it all on purpose." The elder Uso proclaimed that Reigns was jealous of Jimmy being back and wanting to represent the family.
ADVERTISEMENT
Article continues below this ad
Jimmy said Roman wanted to tear Jey and Jimmy apart but he was his "brother's keeper," not Roman. He then promised to do something he won't regret.
Jey Uso then tried to reason with Jimmy backstage, but the former was not having it. Jimmy tried to motivate Jey into listening to him, but Jey snapped finally.
"You went out for a whole year! My loyalty is with the Tribal Chief, Uce," Jey said in contempt. "I am stuck in the middle of this, and I don't know how to get out of it."
Jimmy then told if Roman wanted to meet him, he had to come to the Uso's locker room. While Roman joked it was actually "Roman's cousins" locker room, he eventually agreed to meet Jimmy.
Watch this story: Must-See Moments from the WWE Attitude Era
Roman Reigns confronted Jimmy Uso over his immaturity
The final showdown took place in the Uso Locker room with all three men present. Jimmy began the verbal attack as he recalled how Reigns used them from their childhood. Jimmy said he did not care about the title, he only cared about his family.
"For a year I've watched you abuse Jey. I don't wanna take your place. One day you're gonna be in the Hall of Fame, but you're not gonna be inducted as Roman Reigns, you're gonna be inducted as a spoiled bitch!" Jimmy fumed.
Jey Uso, tired of all those altercations and both his brothers, walked out on both men. After he left, Jimmy challenged Reigns over a match, while the latter confronted Jimmy over his immaturity.
Roman could not understand why Jimmy was behaving like a child. He said Jimmy was using his brain rather than his heart. Jimmy was being immature despite being the older brother.
"You should be looking after him. I should not have to depend on him to reel you in," Roman said. "I should be able to depend on you. Because it's not about you, it's not about me… it's us. It's all of us."
ADVERTISEMENT
Article continues below this ad
Roman then proceeded to say that the Samoans need to be the best every week in order to stay relevant, and that's all he had ever known. He then chided Jimmy over how he could treat Jey like that, even after the latter greatly elevated himself over the past year.
He ended the segment by saying, "Make this right with him, make this right with us." The fans must note that the Uso Twins were absent during Reigns' assault on The Mysterios this week.
Let us know your thoughts regarding the situation in the comments below.
ADVERTISEMENT
Article continues below this ad