WATCH: Seth Rollins Screams Hysterically as Cesaro Swings Him on WWE SmackDown
Published 02/27/2021, 12:08 AM EST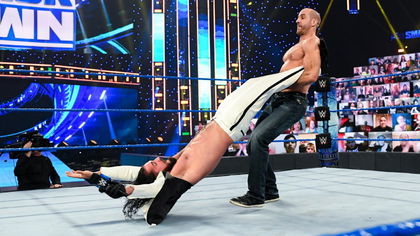 ---
---
Seth Rollins has seemingly started a bitter rivalry with Cesaro. Following Cesaro's 'betrayal' two weeks ago, Rollins faced the 'wrath' of the "Swiss Machine" in the worst possible way. Meanwhile, fans got one of the best Cesaro swings!
ADVERTISEMENT
Article continues below this ad
In the penultimate segment to tonight's SmackDown (02/26/21), Rollins came down to the ring to talk about his complaint letter from last week. He said his team received a significant response, as the letter trended extensively on social media.
However, before he could reveal the outcome of the result, Cesaro interrupted him. But Rollins was adamant to not let Cesaro speak. He blamed Cesaro's loss at Elimination Chamber on his 'disobedience.'
ADVERTISEMENT
Article continues below this ad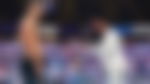 "You turned me down, walked out on me. However, it's never too late to start again," according to Rollins. "Be strong and embrace the vision. Let me lead you to embrace the vision."
Rollins asked Cesaro to think about the proposal for a while – at least two weeks – and come back with a "good answer." Cesaro, seemingly tired of Rollins' preaching, tackled him and took him on the 'Cesaro Swing' as "the Great leader" screamed to let him down.
After putting him down, Cesaro nailed Rollins with a huge uppercut and left the ring. Watch the video below –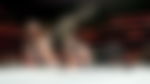 What is the secret behind Cesaro and his giant swing?
The 'Giant Swing' has become a trademark for the wrestler. When he introduced the swing, the new generation of fans was interested and entertained at the same time.
Talking to Bleacher Report, Cesaro revealed the background behind the move. "To me, the giant swing is one of the most traditional moves in professional wrestling and still one of the most entertaining ones. I'm really proud to be able to introduce it, or reintroduce it, to a completely new generation."
ADVERTISEMENT
Article continues below this ad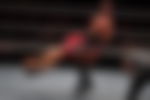 "If you could do any move in a fight, you'd probably do the giant swing on somebody. It's such a show of strength, and you see variations of it in movies and cartoons. Most people think it's impossible to do," he revealed.
Considering the direction of WWE creative, we will probably see a Cesaro vs Rollins showdown at WWE Fastlane. This feud has the potential to become one of the most entertaining ones in WWE.
ADVERTISEMENT
Article continues below this ad
Let us know your thoughts on the budding rivalry between the two in the comments below.