WATCH: The Intense Promo Between Roman Reigns and Kevin Owens Ahead of WWE TLC 2020
Published 12/18/2020, 10:56 PM CST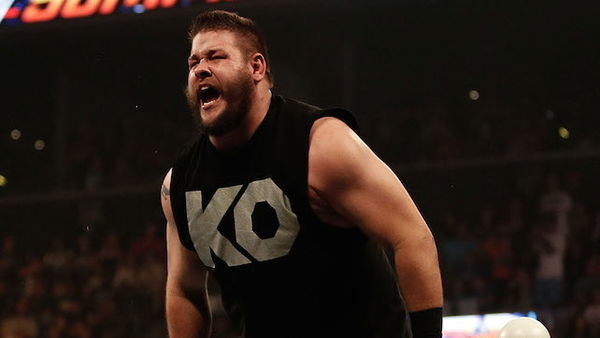 ---
---
The go-home edition of WWE SmackDown featured a scathing confrontation between Roman Reigns and Kevin Owens. Judging from his fierce words, Owens is truly done with the 'supremacy' of 'Tribal Chief.'
ADVERTISEMENT
Article continues below this ad
Owens opened the show as he made his way into the ring. He said he was tired of waiting to face Reigns. He called out Reigns, but as expected, the champion did not show up.
However, Owens had something more to discuss. He said, "You're not the Head of the Table… You're a coward." Reigns was a hypocrite as he used his family to tear down his enemies; instead of facing them himself.
ADVERTISEMENT
Article continues below this ad
Owens asked his family not to watch TLC on Sunday. He said, "I'm afraid of what my family will think of me after what they see what I do to you at TLC."
Owens said Reigns' actions prove how he knows he's not the head of the table. Instead of Reigns, Paul Heyman appeared on the big screen from backstage at Reigns' locker room door.
Heyman looked back at their conversation on Talking Smack. He believed Owens was a masochist, and Reigns was a sadist, especially when it comes to putting a beat down on Owens. However, Owens was a martyr instead of a masochist, and Owens would sacrifice everything for the title.
Kevin Owens will find and end Roman Reigns on WWE TLC
Kevin Owens went backstage to find and end Reigns. But, Reigns and Jey Uso already made their way to the ring. Roman said he just wanted Owens to acknowledge him. Reigns were doing everything to be "The Guy."
"If you won't, if you just can't, I'm going to end you. You won't even make it to TLC on Sunday, hell you won't even make it out of here tonight. Tell me what I want to hear," Reigns said.
ADVERTISEMENT
Article continues below this ad
Owens came up to the ring but was ambushed by Uso. Reigns wanted Owens to apologize, but 'The Tribal Chief' joined in on the beatdown after realizing that he won't. WWE officials rushed down to try to break it up, but Reigns and Uso stood up to them. Paul Heyman then placed the Universal Title on Reigns shoulder as the trio walked backstage.
ADVERTISEMENT
Article continues below this ad
Throughout the show, Jey Uso assaulted Owens. In the last segment, Uso and Reigns assaulted him and left him under a heap of tables. However, Owens still stood on his feet and said he will take the Universal Title on Sunday or "die trying."