John Morrison  pulled off a cracker of a move against his opponent Matt Riddle on the latest episode of SmackDown.
The move got many talking on Social Media.
This week's SmackDown on FOX kicked off with Micheal Cole calling out Matt Riddle for an interview.
The original bro spoke about his historic debut with a win over Intercontinental champion AJ Styles and felt that he could get used to the experience.
He also explained the reason for wrestling bare feet. His legs hurt when he wears shoes due to the frostbite he received when was young.
The original bro was soon interrupted by King Corbin who insulted him in his trademark fashion.
The king felt that he needed to put Riddle in his place. However, Corbin didn't want to dirty his hands and brought out John Morrison to fight Riddle.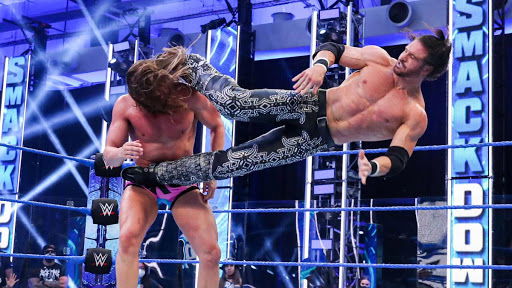 Also Read – Former WWE Superstar Gets into a Heated Argument With Fans
John Morrison leaves the WWE Universe stunned with his new move
The bell rang with Riddle and Morrison facing each other. The Miz was at ringside and joined King Corbin at commentary.
As expected, the match was very creative and both superstars did well.
Then the moment came when John Morrison pulled off a move which left everyone's mouth open.
We gotta give props to @TheRealMorrison for this dope looking sequence of moves. #SmackDown

— Ryan Satin (@ryansatin) July 4, 2020
https://platform.twitter.com/widgets.js
Despite John Morrison's best attempts, Matt Riddle went on to win the match.
It is two out of two now for the original bro.
Beating AJ Styles and John Morrison is an impressive start for the young star.
Matt Riddle looks on course to have a good run in the company. Charming looks, confident on the mic, attractive personality, and ability to get the crowd's attention are all the factors working in his favour in the WWE.
Talking about John Morrison, it seems like he will be in the tag team division for the foreseeable future. Morrison's handicap match with Miz against Strowman felt like a filler rivalry.
The Guru of Greatness is definitely a talent. Agile, creative, and impressive high flying moves got him a lot of praise. Unfortunately, Morrison could never fulfill his potential.
We hope there is more to both these talented superstars.