WWE Universal Champion Roman Reigns Claims He is the Best Storyteller in Sports Entertainment Today!
Published 08/16/2021, 1:53 PM EDT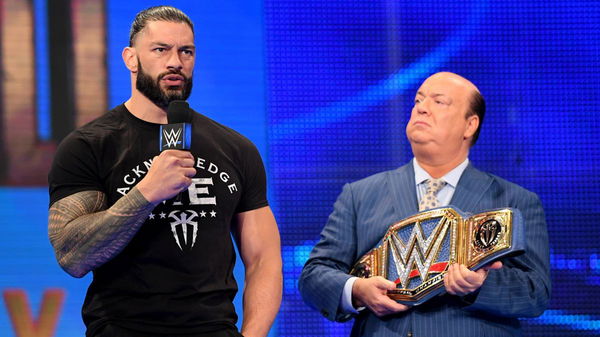 ---
---
WWE Universal Champion Roman Reigns has had a phenomenal year so far. After his return, he won the Universal Championship and has held on to it ever since while developing an undefeated streak.
ADVERTISEMENT
Article continues below this ad
The fans definitely can not wait for this week's SmackDown to see the next chapter of John Cena vs Reigns ahead of SummerSlam on Sunday. Ahead of that, Reigns teased some more interesting storylines when he appeared on Fox Network's "Out of Character" interview.
ADVERTISEMENT
Article continues below this ad
Host Ryan Satin spoke about the extreme binary of Tribal Chief's popularity in WWE. A part of WWE Universe hates him, but another part of WWE does not want the title off of him. Satin thinks Reigns as a champion is very important to WWE now.
"We have a very fast-food-oriented audience nowadays," Roman responded. "It's 'what have you done for me lately situation. Everybody wants some kind of change as soon as they feel like they got…you know the portion that they are looking for."
Reigns came back in WWE at last year's SummerSlam as a heel. He claims, "(it's) not just the performance but just the hard work and just the brainstorming and everything that goes in. To be able to develop these types of stories, and that's where I hang my hat up right now. I'm the best storyteller in Sports entertainment today."
Watch This Story: Funniest Moments of WWE Legend John Cena
Roman Reigns has become the driving force behind WWE SmackDown
We can not disagree with the Tribal Chief here. His match with John Cena at SummerSlam would definitely be the 'biggest event of the summer' on Sunday. Ahead of their epic showdown, Cena and Reigns have both traded massive verbal shots at each other.
Last week, their fiery face-off drew the highest viewership since 2019. The duo dropped massive names from their past like Cena's ex Nikki Bella, former WWE champion and SHIELD member Dean Ambrose aka Jon Moxley, and more.
ADVERTISEMENT
Article continues below this ad
"That's all entertainment is. It's storytelling. We live in a world of storytelling now with social media and on Instagram. We literally have stories if you wanna know what is going on by the minute. To be able to do that on the highest level and consistently do that, can't nobody else say that except me."
ADVERTISEMENT
Article continues below this ad
Do you agree with Ryan Satin and Roman Reigns? Is he the best storyteller in WWE? Let us know in the comments below.