WWE Universe Reacts To The Stellar Showdown Between Roman Reigns and Daniel Bryan on SmackDown
Published 05/01/2021, 7:30 AM EDT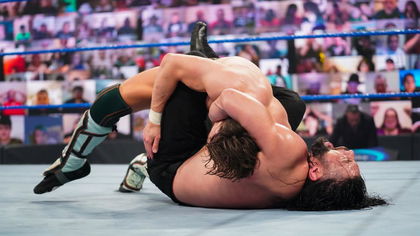 ---
---
In an extraordinary match on tonight's SmackDown (30/4/21), former World Champion Daniel Bryan lost to Universal Champion Roman Reigns. As per the rule of the Title vs Career match, Bryan is now banned from SmackDown.
ADVERTISEMENT
Article continues below this ad
In the main event match, Bryan literally fought till his last breath. For a while, it seemed Bryan would win the Universal title as he put Roman Reigns' injured right arm into the Yes Lock.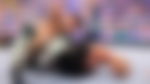 ADVERTISEMENT
Article continues below this ad
However, despite putting on a stellar show, Bryan succumbed to Reigns' notorious Guillotine hold. Bryan initially broke the hold, but Reigns leveled him with a powerbomb and applied the hold again. This time, Bryan passed out, and Reigns retained the championship.
After the show, fans were divided. While some applauded the match and welcomed the new chapter in the American Dragon's Life, some feared that WWE would release Bryan.
Some argued Bryan can take an alternative route by going to NXT and training the stars of tomorrow. See some of the tweets below –
If Bianca Belair suddenly were to leave Smackdown I would probably stop watching. I've literally been watching Smackdown recently because of her and Daniel Bryan and now's he's gone thanks to that pompuss JACKASS Roman Reigns, although I like what Tamina and Natalya are doing

— Michael Harper (@FuckReigns1997) May 1, 2021
Roman Reigns vs Daniel Bryan went great as far as my expectations it was great match but commericals killed the flow.

The techinality from Bryan & brutality from Roman was the best of this match. The clean finish was really needed and we got it.

Ratings ****1/4

— Unscripted Psychopath (プラカシュ) (@UnscriptedPsch) May 1, 2021
I was back and forth with the draft and smackdown last night, I do have to say….I am going to miss seeing Daniel Bryan on smackdown 😔 #SmackDown

— Carina 💙Dallas Cowboy's💙 (@dcowboys_25) May 1, 2021
Daniel Bryan showing the world he is the best of the modern era. I don't wanna see him go 😭😭

— George (@_Thunderhead_) May 1, 2021
A fan pointed out how poetic the end of the match was. Bryan, known as the "submission specialist," succumbed to Reigns' Guillotine Hold. Thus, Reigns established himself as the "Head of the Table."
He deserves it…
With this win, everyone should acknowledge him as he has done it all by himself…
He literally made him tap out or pass out while Daniel Bryan was the submission specialist.
Now,you gotta know why he is the head of the table. ……
The Dominant
The Powerful ..

— Shaik Saifuddin Quazi (@QuaziShaik) May 1, 2021
That bastard went right after Daniel Bryan's head. A man who had to retire 5 years ago due to concussion issues. And then made sure he threw him out of Smackdown the same way again. Fantastic main event – ****1/4

— The Wizard Of Wrestling (@wrasslinwizard) May 1, 2021
Some others were hopeful that we would see Bryan soon on other brands –
Y'all, Daniel Bryan wasn't forced to retire. You realize #WWE has like 40 other brands he can go to, right?

— Pollo Del Mar (@TheGlamazonPDM) May 1, 2021
Forget about RAW, I want to see Daniel Bryan do something in NXT for his final run in the WWE

— Once known as Brickfighter 13 💙💙 (@brickfighter13) May 1, 2021
I wanna see Daniel Bryan vs Adam Cole or Daniel Bryan vs Finn Balor at NXT.

— Xander (@Xander_MV) May 1, 2021
What is next for Daniel Bryan and Roman Reigns?
As Bryan's exile from SmackDown is underway, we don't know what will happen to his career. Ahead of his match, Bryan stated multiple times that his contract is up soon and that he wishes to spend time with family.
Bryan said to Talking Smack, "I haven't said anything about this, but in my mind, this is kind of my last run. This is my last run as a full-time Superstar." He added, "It's not really a scoop. I think you can feel it even in just the way I approach things, in the way my mentality is as far as my view towards younger people and that kind of stuff."
ADVERTISEMENT
Article continues below this ad
On the other hand, as Reigns tried to attack Bryan with a steel chair after the match, Cesaro ran to help the latter. Jey Uso subdued Cesaro as Reigns delivered a chair shot to Bryan.
As the show closed out, Reigns continued to taunt Cesaro. There are high chances that the Tribal Chief will feud with The Swiss Cyborg next. But both of them have to wait as Cesaro faces Seth Rollins next week.
ADVERTISEMENT
Article continues below this ad