"You Are Nothing but an Insecure Bully" – Kevin Owens Trashes Roman Reigns Ahead of Their Last Man Standing Match at WWE Royal Rumble
Published 01/29/2021, 9:59 PM EST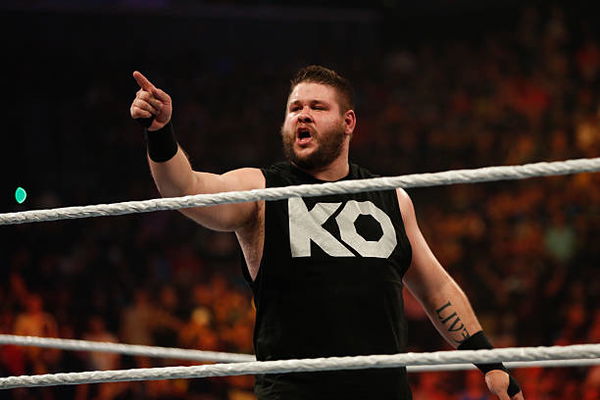 ---
---
Before their 'Last Man Standing ' match at the Royal Rumble 2021 this Sunday, WWE Universal Champion Roman Reigns and Kevin Owens had a final showdown on WWE SmackDown this week (29.01.21). The men had a satellite meeting.
ADVERTISEMENT
Article continues below this ad
Kevin Owens started the battle of words saying that nothing, not even Roman's family, will stop him from winning the title and standing on his two feet.
Paul Heyman spoke on Reigns' behalf and said Owens should not disrespect the 'Tribal Chief' and one of the greatest of all time like this. However, Owens ridiculed them and asked Reigns if he was going to speak or let Heyman do his bidding.
ADVERTISEMENT
Article continues below this ad
Reigns then went personal as he said Kevin Owens was lacking some family lessons.
"You're not supposed to be here, You're not a cast. You're not a Bishop, a Knight, not the Queen, You're a Pawn!" said Reigns. "Everything revolves around me. And you still don't understand this and you still think you can have this Universal Championship, but you can't. You are ill-equipped."
Kevin Owens called out Roman Reigns for being a bully
Reigns taunted Owens further as he claimed that one day Owens' forefathers will tell him what a disgrace Owens brought upon them by not acknowledging Roman's dominance.
Things got heated as Owens delivered a stellar promo.
"The only thing my father and my grandfathers would want me to acknowledge you as exactly who you are, and that's a delusional jackass; who comes to SmackDown every week, surrounds himself with yes men to whisper in his ear how great he is."
ADVERTISEMENT
Article continues below this ad
"You put on this community theatre version of a mafia boss, try to convince people you are this cool, tough guy and you have it all together. But the truth is you're just trying to hide the fact you are nothing but an insecure bully."
Owens passionately described how truthful he is with himself. He claimed that his family is proud of him, and they will see the Universal Champion when he becomes the only man standing in their match at Royal Rumble. Angered by this brilliant promo, Reigns disconnected the call midway.
One remarkable thing to notice in the segment was how Reigns' cousin Jey Uso was missing. Is this a hint towards something more? After last week's physical and this week's verbal assault, what could be next in the Owens vs Reigns rivalry? Let us know your thoughts in the comments below.
ADVERTISEMENT
Article continues below this ad