WATCH: Roman Reigns Hits an Insane Spear Slamming Drew McIntyre Through Steel Barricade During Their Survivor Series Clash
Published 11/23/2020, 6:30 AM EST
By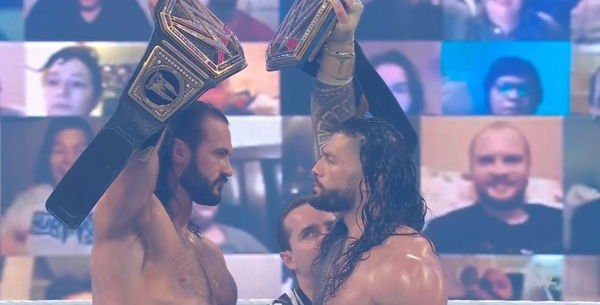 A few weeks back, Drew McIntyre went over to SmackDown to send a message to Roman Reigns. He promised to win back the WWE Championship from Orton and face him at Survivor Series.
ADVERTISEMENT
Article continues below this ad
In the following week on SmackDown, that's what happened. Drew McIntyre came to the blue brand for the contract signing with the WWE Championship in hand.
During the contract signing, Roman Reigns claimed he liked Drew, but he was a number two champion in the WWE.
ADVERTISEMENT
Article continues below this ad
The WWE Champion said he loves it when people underestimate him. In fact, he pleaded with Reigns to underestimate him. The war of words and mind games were huge going into Survivor Series, and the match lived up to expectations.
Drew McIntyre and Roman Reigns put up a match of the year performance
The last match of the evening between WWE Champion Drew McIntyre and Universal Champion Roman Reigns had everything. It had emotion, passion, and, brutal violence.
There were a lot of unsaid words and mind games before the bell rang. The match may have started slowly, but what we saw post that was total carnage.
Reigns controlled many parts of the match, as he indirectly tried to teach Jey Uso how to make others understand after their earlier confrontation. On the other hand, WWE Champion Drew McIntyre had no distraction and was going all out.
Both champions were trading blow after blow with each other.
The family that fights together, stays together
The war went on between the two warriors. The Tribal Chief delivered some serious punishment on McIntyre.
He put the WWE Champion through the announce table and then came the OMG moment. Reigns speared McIntyre through the barricade, crushing their bodies as well as the barricade. However, the Scottish warrior didn't give up.
Luck didn't favor McIntyre as he delivered the claymore and Reigns fell onto the referee, knocking him out. This gave Jey Uso the opportunity to make a guest appearance in the match.
The distraction helped Reigns as he delivered a low blow and Jey Uso stunned McIntyre with a superkick. Reigns then used the guillotine submission to knock McIntyre out and win the match.
The main event was surely WrestleMania worthy and should definitely happen in front of the fans once again. Reigns did not win clean, but with his current heel character, he doesn't need to win it clean.
ADVERTISEMENT
Article continues below this ad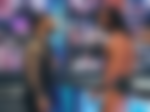 ADVERTISEMENT
Article continues below this ad