Tensions have been flaring between UFC welterweight Colby Covington and the WWE champion Drew McIntyre. The former recently challenged McIntyre to a fight in the WWE. And the champion has only three words to say, "Just bring it".
McIntyre claims he will willing to take on the UFC fighter in a WWE ring or an unsanctioned bar brawl. All he wants is an opportunity to put Chaos in his place.
"In WWE, I beat Brock Lesnar in five minutes at WrestleMania. How would he do in an MMA fight against Brock Lesnar? Probably not very good. So if he wants this unsanctioned fight outside of WWE, I'm willing to fight him in a bar or something," said McIntyre while talking about a potential fight.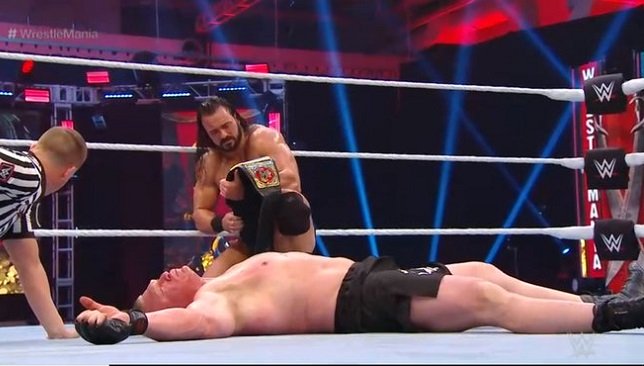 He reiterates on the existence and role, different weight divisions play. Considering how he weighs almost 100lbs more than Covington, making the fight a rather one-sided affair.
"I'll smash his head in, I'll shut him up. I'll break his jaw like Usman did, and then more people watch WWE," said Drew McIntyre.
McIntyre believes that a fight in WWE makes for good PR. Which is exactly what Tyson Fury was after as well while engaging in virtual back and forth with McIntyre. Thanks to the reach that the WWE has, a fight against a champion fighting under that promotion can help bring in the big bucks.
How Colby Covington called Drew McIntyre out
Chaos recently appeared on the SB Nation's What The Heck? podcast where he opened up about his intentions to take on the WWE giant.
"I'm not looking to pick on someone smaller than me, and guys? Let's be honest, WWE may not want this because of the violence and it being too dangerous. I expressed myself by saying that I want to go to WWE to wrestle. But, it sounds like Drew McIntyre expressed himself like he wants to fight," said Covington when asked about the considerable difference in physical attributes.
The welterweight comes in at 5'11" and weighs 170lbs. Drew McIntyre, on the other hand, stands 6'5″ tall and weighs in at 265lbs. Therefore calling it a physical mismatch would be a gross understatement.
However, it seems like both parties are interested in taking up this fight. Only time will tell how the pair will walk away from the fight, that is if they can walk.
Who do you think will triumph?
Continue the conversation on the app, join other MMA fans on MMA Fans App