"Vince McMahon Knows About Me" – Colby Covington Reveals When He Can Make a WWE Debut
Published 04/06/2021, 12:15 PM EDT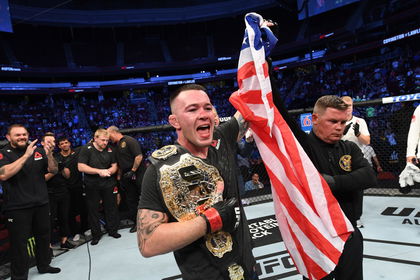 ---
---
Colby Covington was speculated to join WWE this summer. However, the former Interim UFC Welterweight Champion has delayed the process and gave valid reasons behind his decision.
ADVERTISEMENT
Article continues below this ad
The mixed martial artist claimed that talks with WWE have not dried up, and he's much into Vince McMahon's mind. However, he himself opted to delay his arrival owing to the lack of a live audience.
"Those talks they're still there, they're still fluid. Vince McMahon knows about me, but I've kind of made it a point to WWE that I don't wanna come back until fans come back," Covington told Helen Yee Sports. "I'm not going into the arena with an empty arena during these COVID times. So it doesn't make any sense for me to go back until fans come back."
ADVERTISEMENT
Article continues below this ad
Unlike UFC, WWE is wrestling along with a storyline and speculations. Performers attempt to build up a proper storyline, and speculations end up in bouts and challenges. As the name suggests, WWE is all for entertaining fans.
On the other hand, Colby is a true performer. He delivers his best efforts only for the fans. He understands how to make a place for himself within the fans and grow with them. Therefore, the absence of fans from the arena failed to appeal to him in the ring.
"I put on a show for the fans. I know how to sell fights. I know how to play the gimmick, play the characters. I wanna wait till the fans come back. Hopefully, in the next six months or a year, the fans will come back. I'll slowly transition there in a couple of years after I won the belt and defended a couple of times," Covington concluded.
Colby Covington is no stranger to Pro Wrestling
Colby Covington is not at all unfamiliar with the wrestling world. He has in fact made several appearances in Impact Wrestling. The team comprising Colby and other American Top Team members aligned with Bobby Lashley and King Mo.
ADVERTISEMENT
Article continues below this ad
They defeated the team of Moose and Stephan Bonnar at Bound for Glory in the year 2017. Covington also appeared at a WrestlePro event in February 2018. He emerged victorious against TyQuil Woodley, who was in fact a parody character of Tyron Woodley.
His experience in the wrestling arena will certainly make things easy for him. His lethal skills, which he has been flashing in the UFC sector, will provide him with an added edge over others. Hence, fans are definitely waiting for Colby to come over to WWE.
ADVERTISEMENT
Article continues below this ad