WWE Champion Drew McIntyre Mocks Conor McGregor Ahead of His UFC Return
Published 12/06/2020, 7:00 AM EST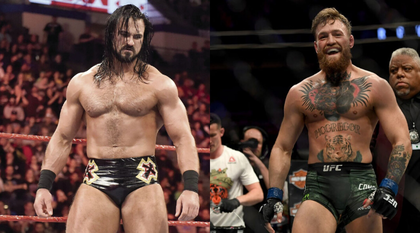 ---
---
Drew McIntyre is doing everything in his power to draw the attention of UFC legend, Conor McGregor. After calling out McGregor for a post on WWE CEO Vince McMahon a few months back, McIntyre has taken another shot at the former UFC Champion.
ADVERTISEMENT
Article continues below this ad
McGregor recently posted a Twitter video where he was seen in a sparring session. Being a proficient boxer, McGregor decided to show off his skill-set before his titanic clash with Dustin Poirier.
ADVERTISEMENT
Article continues below this ad
However, his caption caught the attention of an uninvited guest. McIntyre ripped McGregor, calling him a fan for using his trademark Claymore in his caption.
Cease and Desist productions. Never knew you were such a big fan fella, I'll get my cousin in Ireland to drop round a signed picture and some Claymore merch https://t.co/PCbwXGPBAN

— Drew McIntyre (@DMcIntyreWWE) December 5, 2020
Knowing the loud-mouthed nature of the 'Notorious,' we expect him to launch a scathing comeback.
Drew McIntyre has called out stars from the combat sports world
There's no doubt over the fact that Drew McIntyre can hold his own in a real fight. Despite ruling over the world of sports entertainment, McIntyre loves to dabble in the waters of "real sports."
He had recently called out Boxing legend and fellow European athlete, Tyson Fury, for a bout in the boxing ring. Interestingly, WWE sold the apparent friction between the two mega stars by covering their Twitter feud on their official website.
I'm not one of the normal bums you pick to fight, I'm not some punching bag getting paid to turn up and lose. Nice timing by the way, even with a fractured jaw I'm pretty confident I could do 12 rounds with your pillow fists. Nice try, 'King.' – Your @WWE Champion https://t.co/iWjPEzKJaV

— Drew McIntyre (@DMcIntyreWWE) August 31, 2020
This made many fans think that their spat was actually a work and Vince McMahon is planning a huge cross-promotional battle down the line.
Are Drew McIntyre's digs at McGregor the part of a plan?
Even though WWE hasn't acknowledged the heat between McIntyre and McGregor, the company might be pulling some strings behind the scenes.
If McGregor decides to respond to the "Scottish Psychopath," those doubts will only get stronger.
Many fans believe that Conor McGregor was born to be a part of the sports entertainment world. His larger-than-life persona, combined with the strut that fans often associate with Vince McMahon, make McGregor a perfect fit for professional wrestling.
ADVERTISEMENT
Article continues below this ad
In the recent past, UFC has been very successful in creating stories around fights and selling the gimmicks of certain fighters. Colby Covington and Jon Jones have certainly excelled in that regard.
However, many believe that McGregor's creative range can only be explored in the scripted environment of the WWE.
ADVERTISEMENT
Article continues below this ad
That's why, a potential clash between McGregor and McIntyre has fans so excited. If and when WWE decides to host a WrestleMania in the UK, they know the match they can build the event around.