Xbox: GameSpot Showcases 14-Minute Gameplay from Upcoming Series X Title
Published 10/22/2020, 6:35 AM EDT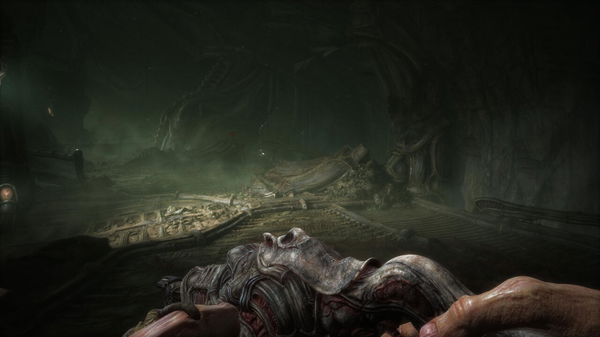 The Xbox Series X is all set to revolutionize gaming from the next month with its powerful hardware. Along with its release, it will be welcoming a lineup of exciting games for the next-gen console. Although the headliner for Xbox exclusives, Halo: Infinite, disappointed the community, there are other titles to look forward to. One of the later addition to this list is Scorn, a horror adventure from the house of Ebb Software, that is set to release on PC and Xbox as a next-gen console exclusive. Scorn will be releasing sometime next year.
ADVERTISEMENT
Article continues below this ad
Further reading: DrDisrespect Takes a Subtle Dig at Twitch Following the DMCA Fiasco
GameSpot recently uploaded 14-minute gameplay of what it called a grotesque body horror that features "bizarre and nightmarish imagery from H.R. Giger's work on the Alien franchise". The gameplay is reminiscent of Doom, to some extent. This horror FPS takes players to a biomechanical labyrinth. Note that this is not the final look of the game, but quite near to it.
ADVERTISEMENT
Article continues below this ad
ADVERTISEMENT
Article continues below this ad
Ebb Software's upcoming horror-adventure FPS for PC and Xbox Series X is reminiscent of Bioshock and Doom
The environment of this game is certainly intriguing. Although the gaming community has seen numerous horror-adventure games over the years, Scorn manages to impart a sense of uneasiness upon the players. The source of this uneasiness is something the players cannot accurately pinpoint. GameSpot said:
"According to the developers, Scorn's visual style takes some direct inspiration from H.R. Giger and from the works of surrealist artist Zdzisław Beksiński, which puts you in a constant state of discomfort, but still leaves you curious about its origins."
ADVERTISEMENT
Article continues below this ad
The devs have managed to create a world in Scorn that feels completely unknown, which kind of adds to the fear quotient. Unlike Doom, the weapons in this title look like they are organic and seem to be made out of living tissue.
From GameSpot's 14-minute gameplay and review, it looks like this much-anticipated title will make a fine addition to the roster of Xbox Series X exclusives.