Xbox is about to Make the Series X Fridge Meme a Real Thing
Published 04/03/2021, 4:15 AM EDT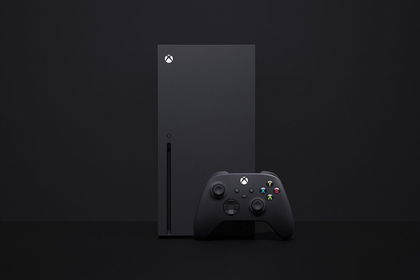 ---
---
One of the earliest memes that rose to popularity regarding the launch of the new-gen console from Xbox, was the fridge meme. The community had pointed out multiple times that the Xbox Series X console, in fact, looks like a fridge. The Series X console has earned this comparison due to its shape, which is significantly different from its predecessors. The black-colored console stands tall and frankly looks like a monolith about to trigger human evolution.
ADVERTISEMENT
Article continues below this ad
However, looks like Microsoft is about to turn this Xbox-fridge idea into a reality once more. Recently, Xbox won against the iconic candy brand Skittles in a brand contest on Twitter. As a result, the company will actually be releasing Series X fridges. Aaron Greenberg, the Xbox Marketing Head, further said that they will be sending the first one to Skittles.
Thanks to everyone who voted, this was down to the wire and thrilling to follow. Now that @Xbox won, we will move forward on our promise to make those Xbox Series X Mini Fridges. First one off the line will be filled with games & headed to our friends @Skittles of course! 💚🌈 https://t.co/xeeN8yLGV8

— Aaron Greenberg 🙅🏼‍♂️💚U (@aarongreenberg) April 2, 2021
ADVERTISEMENT
Article continues below this ad
Further reading: Among Us Streamers Pokimane, Corpse Husband, Valkyrae, and Others React to the New Airship Map
The premise of the competition was to see which company ends up being the first-ever #BestOfTweets Brand Bracket champion. As you can see, the results were really close, with Xbox winning with 50.5% of the votes.
Xbox wins the #BestofTweets championship and promises to make Series X fridges a reality
The company was ready to win this championship on Twitter. While Skittles was pulling a commanding lead in the poll, Xbox pumped up its community using tweets stronger than any pep talk ever.
ADVERTISEMENT
Article continues below this ad
As for the fridge, the company has confirmed that this is not an April Fool's joke. Neither is this just clickbait. This means that it is happening, folks! Xbox really means to produce and circulate the Series X fridges. However, the company is yet to comment on the availability or the prices for this unique product. But one thing is for sure, this will be one of the most bizarre electronic products to ever exist. This will obviously make it somewhat of a Holy Grail for the community.
ADVERTISEMENT
Article continues below this ad
On the other hand, the stakes were high on Skittles' side as well. The company promised to bring back lime-flavored Skittles. This kind of did tip the balances towards it, but Xbox emerged victorious with a close victory in the end. Well, all that is left is to wait for this coveted product to release!