Xbox: Microsoft Flight Simulator Breaks Game Launch Record
Published 09/03/2020, 1:51 PM EDT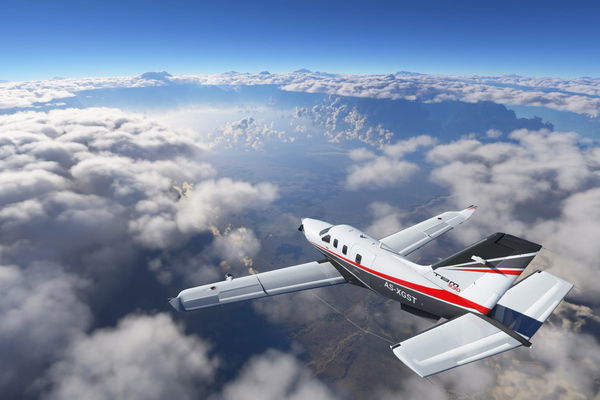 ---
---
Microsoft's Flight Simulator has taken off in the perfect fashion since its release. The game released on August 18 for Windows PC. Since then the sales 'flight' for this game has only soared higher in comparison to other games on release. Due to the overwhelming support this sim received, Microsoft's Flight Simulator currently has over a million unique players, marking a record in Xbox.
ADVERTISEMENT
Article continues below this ad
In a blog post published by the Xbox Wire, Jorg Neumann, head of Microsoft Flight Simulator thanked the dedicated virtual pilots for their support. He also mentioned eye-catching statistics regarding the game.
"Flight Simulator was the biggest game launch in Xbox Game Pass for PC (Beta) history.
ADVERTISEMENT
Article continues below this ad
"It's been wonderful to see the reactions to Microsoft Flight Simulator from the community, who have flown more than 26 million flights and logged more than 1 billion miles flown to date – the equivalent of flying around the world over 40 thousand times. Talk about racking up those frequent flyer miles!"
The point to be considered is this statistics only pertains to the players on Xbox Game Pass. The game is also available on Steam. The player stats are not available for that platform, however, we know that the sim hit a high of 61829 concurrent players. This 'all-time peak' was hit 16 days ago.
Read: Xbox Marketing Lead Comments on Price and Launch Date
ADVERTISEMENT
Article continues below this ad
Other simulator stats for Xbox players
Microsoft's Flight Simulator revolves around complex operations to fly airplanes. It is a real-time experience in virtual skies to carefully fly planes around actual world destinations. The Xbox Wire post provides other interesting stats regarding the game.
In the blog post, some other interesting stats were also included. New York's John F. Kennedy International stood out as the most popular airport. Daher TBM 930, the Cessna Citation CJ4, and the Airbus A330 Neo are three most popular aircrafts. The most popular destination? 'Your house' became the most visited destination within the game's half a month tenure. Even popular YouTuber PewDiePie attempted to fly to his house in Sweden.
ADVERTISEMENT
Article continues below this ad
A massive total of 26 million flights have been flown to date. On Twitch, the game has been watched for 6.5 million hours.
The game released its first major patch yesterday for PC players. At this pace the game might just become a straightforward contender to the 'Game of the Year' award. A simple look at the reviews will settle the discussion as to why this particular sim is so huge right now. Watch the accolades trailer below.
Trending Stories