Xbox Series X Timed Exclusive The Medium Takes About 8–10 Hours to Complete
Published 11/24/2020, 9:31 AM EST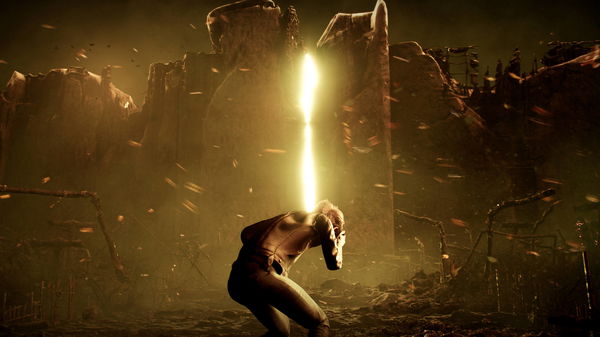 ---
---
Xbox Series X didn't have great exclusives at launch, but it is definitely getting some great ones going forward. The Halo Infinite delay was disheartening, but Xbox will look to strengthen its position with the help of other titles. One of the most exciting ones that can help Xbox achieve this is The Medium.
ADVERTISEMENT
Article continues below this ad
The Medium is a psychological horror game developed by Bloober Team. As fans already know, it is going to be a timed exclusive for Xbox Series X & S, but will also be available on PC. Consequently, PlayStation fans will have to wait before they can experience this game.
The Medium is all set to launch on January 28,2021, and is now available for pre-order. Now, the developers of the game have revealed some additional information about the game ahead of its launch.
ADVERTISEMENT
Article continues below this ad
 33% of The Medium will consist of dual reality gameplay
ADVERTISEMENT
Article continues below this ad
In an exclusive interview with Gamingbolt, producer Jack Zeiba revealed that the game will be around 8-10 hours long. This is great news considering this would be the ideal length for a horror title. Furthermore, the game will not feel stretched either. In addition to this, Zeiba also revealed that about 33% of the game will consist of the Dual Reality gameplay.
"The game does not appear with dual reality gameplay all the time as players can expect to play in it about 33% of the game, while the rest of the game takes place within a single reality, either in the real world or in the spiritual world."
ADVERTISEMENT
Article continues below this ad
The Dual Reality gameplay is one of the most important aspects of this game. It allows players to experience things happening in the real world and the spirit world simultaneously. This is an ability of the game's protagonist Marianne, who acts as a 'Medium' and can travel to the spirit world. This is something no other game has had before and is a feature that sets it apart from others..
Additionally, the game's antagonist, The Maw, is voiced by popular VO artist Troy Baker. Baker is famous for his role as Joel Miller in The Last of Us titles. Clearly, the game has everything it needs to be a smash hit and will possibly kick things off for Xbox Series X & S as well.
Trending Stories