"You Are An Absolute Idiot" – Nick Kyrgios On Stefanos Tsitsipas' Prank
Published 04/27/2020, 7:19 AM EDT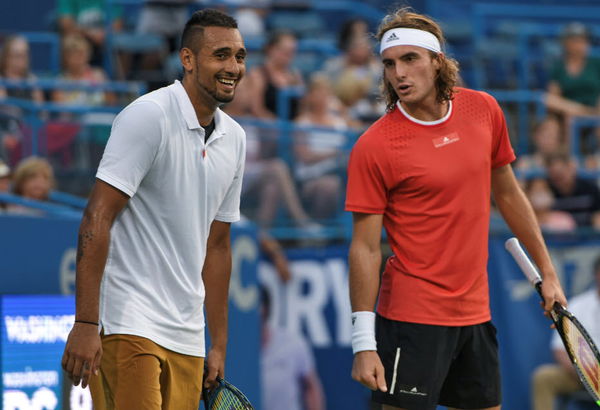 The coronavirus pandemic has forced a lot of people to stay put at home. All of these people are bored out of their minds, hungry for some entertainment to kill the time. Stefanos Tsitsipas has done them a service by providing exactly that with a prank on Australian Nick Kyrgios on his birthday. Check it out.
ADVERTISEMENT
Article continues below this ad
Stefanos Tsitsipas' Prank On Nick Kyrgios
Stefanos Tsistsipas put up a post on Instagram. In the post, he is seen holding a piece of cardboard with a number on it, saying, 'Call Me'. Turns out, it wasn't the Greek's number, but rather Nick Kyrgios'. Unsurprisingly, Nick received a ton of phone calls thanks to this prank.
ADVERTISEMENT
Article continues below this ad
Kyrgios commented on the post calling Stefanos 'an absolute idiot' and asked everyone to stop calling him. Unfortunately for Nick, he is not going to stop getting calls for a while since many people already have the number. He will have to get a new number to stop this, which I am sure he will.
This was surely not the birthday gift Nick Kyrgios was expecting. He's probably received millions of phone calls from fans by now and will surely be cursing Stefanos Tsitsipas for pulling this prank. If we know Nick at all, he is probably figuring out a way to exact his revenge right now.
ADVERTISEMENT
Article continues below this ad
Jokes aside, this was an amazing way to entertain fans who do not have any tennis to watch because of the coronavirus that has suspended all tennis. This just proves that some tennis players do not have to be on the tennis court to provide entertainment; they can do so off the courts as well.
Hopefully, Nick will pull an even better prank on Stefanos. If we are lucky, this will start a prank war between the pair. That should keep all of us entertained until July. They will then continue their war on the tennis court and will entertain fans there too.