You Can Now Check the Stocks of Xbox Series X/S and PS5 on this Twitch Stream
Published 11/28/2020, 12:09 PM EST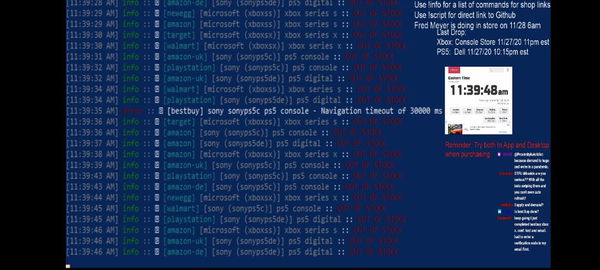 We all remember the rush that occurred during the pre-order phase of the Xbox Series X and the PS5. The situation is unfortunately still similar, as players are trying to obtain the latest consoles from the houses of Sony and Microsoft.
The rush is real this holiday season, as it is not only other buyers that they have to compete with but also bots and resellers. There are no stocks available at almost every retailer and online portal out there. Subsequently, many failed to bag one for themselves.
Further reading: Cyberpunk 2077 Hints At Yet Another Collaboration After Adidas, Porsche, One Plus and Others
ADVERTISEMENT
Article continues below this ad
To help patrons out, a Twitch channel is currently showing the available stocks at various retailers like Amazon, Best Buy, GameStop, NewEgg, Walmart. A person called Cam Ritz owns this Twitch channel called killercam1020.
In an interview with Polygon, who did a piece on this Twitch channel, Cam said that he wanted to help others out through this. Apparently, some users have managed to bag a console from themselves too, thanks to his channel.
ADVERTISEMENT
Article continues below this ad
"I made this to help others out, to be honest. [I] had luck last night though with one person getting one from [Sam's Club], and yesterday had luck with a few people getting Xbox Series Xs from GameStop."
Further reading: A New Black Ops Cold War Update Might Unfold a New Mode That Hasn't Been Announced Yet
Okay, but how is the channel checking the Xbox and PS5 stocks, though?
ADVERTISEMENT
Article continues below this ad
Killercam1020 uses a public software, Streetmerchant, to monitor the stocks from various retailers. Another major source for this channel is the popular Twitter handle Wario64. This handle has been notifying its followers about the stock availability of the Xbox and PS5 at a variety of retail options.
However, right now, the stream will offer you nothing but disappointment as you see various retailers going out of stock in front of you.