"You Son of a B***h"- Gary Whitta to Xbox Chief Phil Spencer
Published 08/14/2020, 8:58 AM EDT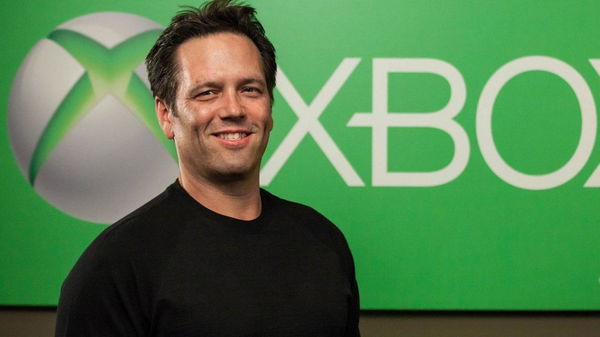 The past few days have been chaotic for Xbox fanatics. It started with the news of multiple people purchasing a white Xbox Series X controller, as opposed to the trademark black. This was followed by Aaron Greenberg announcing that the Xbox console would launch in November, which made the fans happy.
ADVERTISEMENT
Article continues below this ad
However, then came the heart-breaking news of a delay in halo Infinite's launch. While the news Halo Infinite's delay was not well received, the silver lining here is the fact that the developers do not wish to ship out a mediocre product.
In other news, the Xbox Series X edges ever closer to being ready for launch. Phil Spencer, the brains behind the Series X, confirmed in an interview with Gary Whitta that he had recently taken home the retail version of the console. As you can imagine, Whitta was envious of Spencer. In fact, he couldn't help but exclaim, "you son of a b*tch!"
ADVERTISEMENT
Article continues below this ad
But it should not come as a surprise to anyone; after all, it is only natural that Phil gets the first retail version of the console.
Xbox Chief Phil Spencer on the new console
ADVERTISEMENT
Article continues below this ad
Later in the interview, Spencer also said, "We do an early run, including the cardboard, the packaging, and the whole thing. This is so we can see the 'Out-of-box' experience, what it's like to open up the package, setting up the platform for the first time, plugging it in, etc. We just want to make sure that we have the full end-to-end experience the way we want it.
"The platform team and the hardware team do an amazing job with really fine details. I've also been using the Series X for a few months now at home and it's a different experience."
ADVERTISEMENT
Article continues below this ad
Well, now we understand why Gary was envious. The way Phil described the packaging hinted towards something special coming our way, which just hypes it up even more. We know for a fact that Series X is a powerhouse, but it is good to know that the company is working on ensuring that we get a positive, all-round experience.
Buckle up for some great news in the coming days.