YouTuber Decodes Why Studio Isn't Promoting Current-Gen 2K21
Published 08/22/2020, 1:49 PM EDT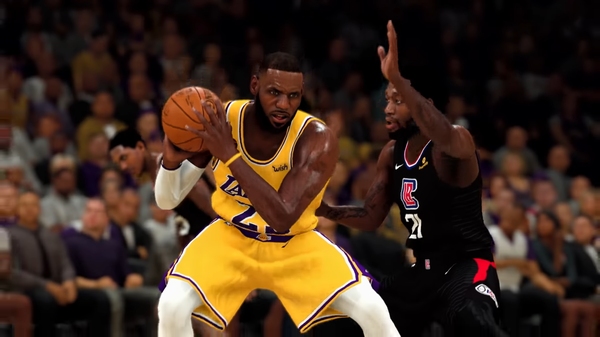 ---
---
2K21, the latest title in the NBA 2K franchise, is dropping soon. However, many believe the current-gen version of the title isn't being hyped as much as the next-gen variant. This could be because of multiple reasons, some of which YouTuber Agent 00 tried to break down in a video.
ADVERTISEMENT
Article continues below this ad
NBA 2K21 has many animations returning to the game. The game also brings in some gameplay overhauls that were previously seen in NBA 2K17 and more.
ADVERTISEMENT
Article continues below this ad
Mike Wang on every change in the game
Gameplay Director for NBA 2K, Mike Wang, recently answered some questions regarding the game. Fans flooded Wang with questions on Twitter.
One was regarding the use of shooting with the square button instead of the right pro-stick.
You can still use the button and be very successful. The pro stick just has a wider skill gap. Some will do better with it in comparison, but some will shoot a ton of airballs. My advice is to try both and see what fits you better.

— Mike Wang (@Beluba) August 13, 2020
Wang replied that the pro stick brings in a wider skill gap. It all depends on the player; if you master it, you get more out of it or else you keep missing every time.
He also stated that the Pro stick has a bigger boost meter to shoot.
Pro stick is the biggest boost in NBA 2K21?
Another thing Wang pointed out was that turning off the meter in the pro stick will disable aiming. And in that case, you must rely solely on your timing as players in NBA 2K20. The meter helps in aiming, so it'll better for most to keep using it.
When you shoot with the pro stick, the meter only shows the ideal aiming point which you use the stick to target. You don't see timing so you have to know your release as if the shot meter was off.

— Mike Wang (@Beluba) August 13, 2020
Shot Button will work pretty similarly to 2K20, though a lot of re-tuning has been done

— Mike Wang (@Beluba) August 13, 2020
You have to time the jump shot in the green window, but you have it aim it directly up or down. If you get it wrong, the aim would miss, but getting it right means you get a significant boost.
As Agent 00 mentioned, the probability of missing with the pro-stick is its biggest problem. You have to hold down the right stick and the game has to realize that you're are attempting a jump shot and not a dribble.
Apart from that, dunking is the same as 2K20. The quick draw is gone forever, and if you aren't a fan of the pro stick, you can always turn it off. It is the player's choice.
Much of the changes aren't exactly new to the game. They were simply nerfed or removed from previous installments.
ADVERTISEMENT
Article continues below this ad
Agent 00 on why 2K isn't promoting current-gen NBA
The YouTuber believes that there isn't much to promote about the current-gen. He also stated that the changes 2K is bringing to the new title could have easily been accomplished on 2K20, but they are all about business.
"After hearing all that news, I'm a little disappointed. I'm excited by simple quality of life updates, but I don't feel like it needs a brand new game. All those things could have easily been accomplished in 2K20, but they just want to sell the game again, which makes sense, 2K is a business.
ADVERTISEMENT
Article continues below this ad
"I genuinely believe the reason that 2K hasn't been promoting current-gen is because they can't find to promote it. Because in past years, there are too many exciting things like new neighborhoods or new game modes in my team or a new engine. There's nothing to talk about."
This could be the year when 2K brings in all the changes that fans have been asking for in previous installments. To know if it works out, fans will have to wait until the 24th for the NBA 2K21 demo to drop.