Zaheer Khan: Tendulkar of Indian Bowling?
Published 10/07/2014, 10:13 AM EDT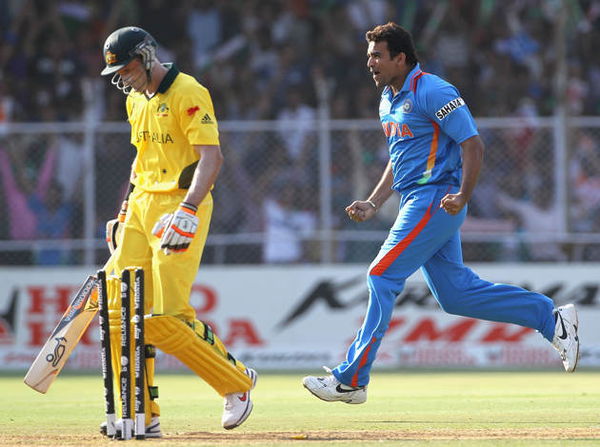 ---
---
MS Dhoni referred to him as 'Sachin Tendulkar of Indian bowling' prior to the 2011 World Cup. For someone who follows Indian Cricket, there's no doubt in anyone's mind that in the past decade, more often than not, 'Zak' or Zaheer Khan has been India's go-to man in the bowling department.
ADVERTISEMENT
Article continues below this ad
Be it Tests, ODI's or T20's, the man has always delivered whenever required. Whether it be removing the openers with the new ball or making breakthroughs with the reverse swinging old ball, the man knows his skill and craft very well. He lost out on the express pace he had initially, but has made up for it with his subtle variations through the knuckle ball(slower one), the odd-bouncer and the yorker, he was very hard to get away in the death overs.
This was brilliantly showcased in the 2011 World Cup. The wickets of Strauss, Bell and Collingwood turned the match into India's favour when England were comfortably winning and the wickets of Micheal Hussey and Cameron White restricted Australia's score to a chaseable one in the quarter-final. In the final though, he went for plenty in his last 3 overs, but his opening spell of 3 consecutive maidens didn't allow Sri Lanka to get away to a good start. With 21 wickets from 9 matches, he was the joint highest wicket taker with Shahid Afridi.
ADVERTISEMENT
Article continues below this ad
During the 2011 tour to England, when Zaheer got injured on the first day of the first test at Lords, many experts believed that India went downhill from that moment onwards. India lost all four tests badly and the bowling department lacked all of sorts of experience with Zaheer being ruled out. Not only that, India's pace bowling sometimes looked pedestrian when he was ruled out. Such was the dependence on him.
Zaheer Khan first got noticed on the international arena with his performances in 2000 in the ICC Knockout Trophy (ICC Champions Trophy). His fast full toss to dismiss Steve Waugh was a pleasing site for every Indian fan and his fast inch-perfect yorkers bullied the batsmen which helped him take 7 wickets from 4 games. In the 2003 World Cup, he picked 18 wickets from 11 games and along with Javagal Srinath and Ashish Nehra, he was instrumental in taking India to the finals. Still a young bowler then and playing his first World Cup final, the occasion got to Zaheer and he bowled a poor first over conceding 15 runs and was then smashed all over the park by the Aussie duo of Matthew Hayden and Adam Gilchrist.
What has separated Zaheer from others is his performances overseas. He never got carried away with the pace and bounce and bowled short, rather he found out the suitable length very quickly. While playing the first test in Brisbane against Australia in 2003, he ran through the Australian middle order to dismiss them for 323 after being 268/2. He suffered a hamstring injury in the second innings which started his affairs with other injuries as well. The injuries hampered his career for the next two years during which he didn't play much of international cricket.
The year 2006, by all means was the turning point of his career. After being dropped from the Indian side following the emergence of pacers like Munaf Patel, Sreesanth and RP Singh, Zaheer joined Worcestershire County Cricket Club and took 78 wickets in that season claiming 9-138 against Essex. With a shorter run-up, he was leaner, fitter and more lethal. He was the perfect foil for Sreesanth in South Africa, after which he again became the leader of the bowling attack. In 2007, he then scripted one of India's greatest overseas win at Trent Bridge in Nottingham picking up 9 wickets in the match.
There were many more such spells, both overseas and in India when he humbled the opposition batsmen. Greame Smith, Alaistar Cook, Mathew Hayden and several other left handers had no clue whether the ball would come in or leave them after pitching. To the right handers he developed his around the wicket angle with the old ball, which he reversed very well.
With 311 wickets at an average of 32.95 and a strike rate of 60.4 in 92 Tests and 282 wickets at an average of 29.43 and strike rate of 35.8 from 200 ODIs, he is certainly one of the best fast bowlers India has produced. Not only that,but he is also India's highest wicket taker in World Cup's along with Javagal Srinath, taking 44 wickets in 23 matches. The only difference is Srinath did so in 34 matches.
ADVERTISEMENT
Article continues below this ad
But the harsh reality is, that at 36, he is not getting any younger and there has been a substantial decline in his pace as seen on tours to South Africa and New Zealand. Will he make a comeback again and board the flight for Australia where India defends its title, or have we seen the end of him?
Only Zaheer and time will tell.
ADVERTISEMENT
Article continues below this ad