Zlatan Ibrahimovic-"Novak Djokovic is a Good Guy"
Published 12/22/2018, 3:41 PM EST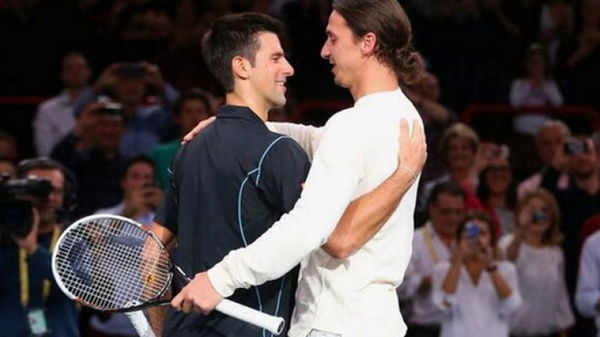 ---
---
Zlatan Ibrahimovic and Novak Djokovic, if you look at them carefully, are born out of the same mold. Both are exceptionally talented, both have got an overpowering aura around themselves, and both are extremely funny characters.
ADVERTISEMENT
Article continues below this ad
And it was only fitting, when they both met each other at the Rolex Paris masters 1000. Ibrahimovic, later opened up on the meeting and spoke highly of Novak Djokovic. "I'm super happy for him because he came back from injury to be number one, where he belongs", said Ibrahimovic in his interview. "We're good friends", continued Ibrahimovic. "We're still in contact, we follow each other, we see each other's success", he added.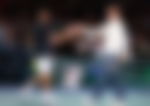 ADVERTISEMENT
Article continues below this ad
Ibrahimovic went on to praise Novak Djokovic, for having a transparent personality, unlike most of the other players who have different faces on and off the court. "He's a nice guy", said the Swede. "The person you see on TV is the real person also", he continued. "Some athletes, they're one thing on camera and another in real life, but this person (Novak Djokovic), is the same in both and that's what I like about him."
The both of them have struck such a good chord in their relationship that Djokovic also happened to meet Ibrahimovic's family. "He's funny, a good guy, has positive vibes and easy to hang out with", said Ibrahimovic. "He (Novak Djokovic) met my kids and they were super impressed by him", continued Zlatan. "They don't play tennis, they do football and martial arts(of-course) but they were super happy to meet him", he added.
Ibrahimovic also hit a few balls with Novak Djokovic, and Zlatan thought 'Zlatan' played well! 'I prefer hitting the balls with my feet, not using my hand", he said. "I did good, I stayed with my feet, on the ground. I didn't use my hands so I did the right choice", he said with a smile.