Zlatan plays 'magic' man as Sweden advance to Euro 2016
Published 11/18/2015, 9:45 AM EST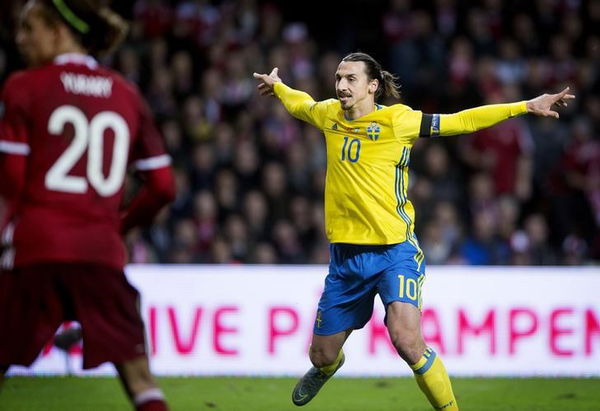 By Philip O'Connor
ADVERTISEMENT
Article continues below this ad
COPENHAGEN (Reuters) – Having famously boasted that the World Cup in Brazil would not be worth watching due to his absence, Sweden captain Zlatan Ibrahimovic claims next year's Euro finals in France will be "magic" after his side defeated Denmark to qualify.
The 34-year-old scored three of his side's four goals — a penalty, a cleverly-worked strike from a corner and a sublime free kick — as the Swedes beat local rivals Denmark 4-3 on aggregate in a hard-fought playoff.
ADVERTISEMENT
Article continues below this ad
"It will be magic. It will be big magic for me to be there," an elated Ibrahimovic told reporters.
Should the prolific striker continue in the form he is currently enjoying, it will also be magic for Sweden's supporters, even if it might prove to be the player's swan song.
"It is probably going to be my last tournament with the national team and I am very excited because before these two playoff games there was all this kind of talk that we were not able to beat Denmark," he told reporters.
"Now we are very happy and I am satisfied. I let my feet talk. I don't talk in public."
For once, that statement was true. Ibrahimovic was, by his own lofty standards, kept quiet enough by Daniel Agger and Simon Kjaer, but he worked harder than ever in defence, and when his chances came, he took them with aplomb.
For Swedes, qualification means not having to deal with the international retirement of their talismanic captain until at least next summer, but the player is already preparing to wind down his career.
His contract with French champions Paris St Germain runs out at the end of this season and he is considering his options.
"I think it is too late to come to England. I am very happy in PSG, I have my last six months and let us see what happens afterwards," added the player who has also won league titles in the Netherlands, Spain and Italy.
ADVERTISEMENT
Article continues below this ad
His legs may be getting older, but his appetite for the game remains undiminished.
"I am enjoying it, I enjoy every day on the field. While I am playing at the top level I just want to enjoy it and do my thing," he told reporters.
"I do not know where I will finish my career. Let us wait and see."
ADVERTISEMENT
Article continues below this ad
Whatever his choice of club, an international career which started modestly with a friendly against the Faroe Islands in 2001, will now end on one of the biggest stages of all, at the European Championship finals in France next year.
(Editing by John O'Brien)