Zombie Army 4: Dead War Gets Xbox Series X/S Optimization
Published 04/09/2021, 4:21 PM EDT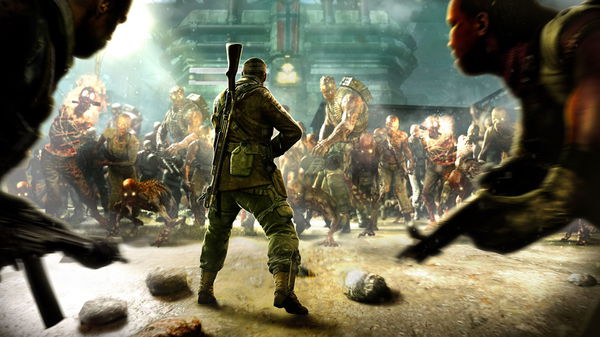 ---
---
This year has been pretty good so far for the gaming community. Last year we witnessed the inception of the new-gen of gaming. The arrival of the Xbox Series X, Series S, and the PS5 opened up developers to a whole new range of possibilities. Furthermore, it did not just gift the community an array of beautiful and exciting titles but also opened the possibility for devs to optimize previous-gen titles so that they can make the best of the new-gen hardware.
ADVERTISEMENT
Article continues below this ad
Recently, the official Xbox website announced one such iconic title which the devs have optimized for the Series X and Series S consoles. The game in question is the iconic zombie title Zombie Army 4: Dead War. A sequel to the 2015 Zombie Army Trilogy, this one became quite a major hit when it released earlier last year. This year it is getting a free new-gen update for the latest consoles from Microsoft.
ADVERTISEMENT
Article continues below this ad
In a recent interview with Xbox Wire, Steve Archer, the Senior Producer at Rebellion, talked about the process that went into the optimization process.
Further reading: Call of Duty Warzone: Playlist Update for The Week Adds Black Ops 4 Map While Infection Reaches 66%
Devs at Rebellion have been excited to work on the Zombie Army 4 new-gen update on Xbox
Steve says that the entire process has been quite exciting. The ability to leverage the powerful hardware of the new-gen consoles to the fullest extent is something he has enjoyed. In the interview, he says,
"I'm privileged to get hands on with new hardware and brainstorm with colleagues on how we can tackle this new beast. In the case of Zombie Army 4: Dead War, we considered the needs of our players and what we could do with the time we had available ahead of our target release date. The experience of playing in ZA4's visually rich game world at 60FPS with super responsive controls can't be underestimated."
ADVERTISEMENT
Article continues below this ad
ZA4's new-gen update will let players run the game at 60 FPS on 4K. Furthermore, this update will allow cross-gen saves as well. In this context, Steve adds,
"cross-generation saves ensure players can get back into the action seamlessly on whichever console generation they are playing on. This is the very start of our journey and we look forward to harnessing the newfound power and feature set this new generation gives us."
He also says that Rebellion had originally planned to release the game with 4K/60FPS in mind. However, when that went well, they tried pushing the visual enhancements to reach 120FPS on the new-gen consoles.
ADVERTISEMENT
Article continues below this ad
Along with the immersive audio experience and the visual enhancements, it does seem really promising. Rebellion has laid out a treat for fans with this latest update.