Can Roger Federer Still Win His 21st Slam at Wimbledon Championships 2021?
Published 06/16/2021, 3:19 PM EDT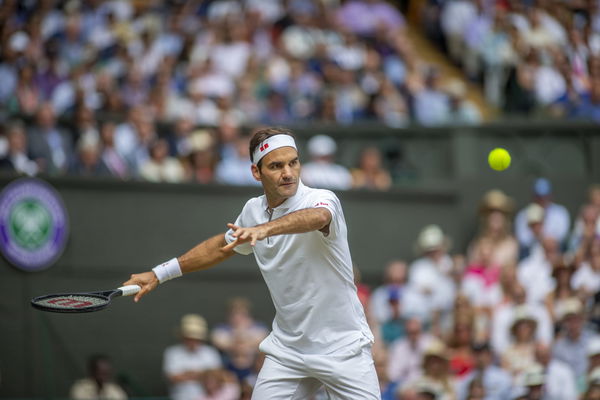 ---
---
When a young Roger Federer defeated Pete Sampras in the fourth round of 2001 Wimbledon Championships, many opined that Federer was the rightful heir to Sampras on grass.
ADVERTISEMENT
Article continues below this ad
Their  prediction didn't go wrong as the Swiss Maestro managed to cross Sampras' record of seven Wimbledon titles when he defeated Marin Cilic in 2017.
Four years later, the Swiss star faced a young Felix Auger-Aliassime in the second round at Halle Open, a mandatory pre-Wimbledon grass-court event for Federer.
ADVERTISEMENT
Article continues below this ad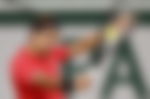 Watch this story: When Roger Federer Toyed His Opponent So Bad He Asked Advice from Andre Agassi in the Crowd
While Federer was expected to demolish the Canadian both from the baseline and at the net, Auger-Aliassime denied the Swiss Maestro of that opportunity. Instead, the 20-time grand slam champion was defeated by Felix in three sets 4-6,6-3,6-2.
In a year where the Swiss star played just eight matches on-tour ahead of Wimbledon, the chances of clinching his favorite grand slam trophy are diminishing. Even though a sample size of 8 matches is too small to draw conclusions, it's going to be a tough Wimbledon for Federer as he battles recovery and stiff competition from other players.
So, what are Federer's chance of winning his 21st major title at Wimbledon?
Expecting a 2017-like comeback from Roger Federer might not be practical
After having two knee surgeries last year, the road to glory has been the hardest for Federer as he faces different challenges this year. Expecting or comparing this comeback to the one in 2017 doesn't hold good.
Four years ago, the men's singles draw was still revolving around big names like Nadal, del Potro, and others. Youngsters like Zverev, Tsitsipas, and Medvedev didn't prove themselves yet on the ATP tour.
This allowed Federer to outpower players like Marin Cilic, Tomas Berdych, etc. Since he played against them already, the 20-time grand slam champion used his experience to earn victories.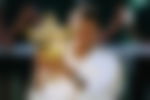 Now, the scenario on the ATP tour has changed completely. Even though Nadal and Djokovic are still winning grand slams, the younger players are ruling the roost at several Masters 1000 and 500 tournaments.
In such a competitive locker room, it becomes incredibly hard for a player, recovering from two knee surgeries to witness success straight away. The second-round defeat at Halle to Felix Auger-Aliassime surprised many because it came on grass, Federer's favorite surface.
But, the Swiss Maestro enjoys a healthy win percentage of 87 on grass, which is the best for any player in the Open Era. For Federer to have a deep run, the draw at SW19 this year holds significance.
Federer's serve on grass holds the key for Wimbledon success
Over the course of two decades, there are many records of Federer that will stand the test of time and one such statistic is his serve. Even though the Swiss star isn't the fastest of servers on the men's tour, he maintained pin-point accuracy over the years in service games.
As age progressed, Federer dropped his serve speed and relied on its variety. He started using the kick-serve to good-effect. The inclusion of serve-and-volley to his playing style also helped the Swiss star to dictate points on grass.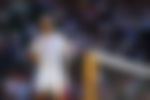 Also, the Swiss Maestro won close to 60% of points on his second-serve in grass courts. In the all-time leaderboard, Federer was just behind Milos Raonic in the second-serve win percentage. This stat proves that he can overpower adversities on grass better than the other two surfaces.
Again, it's impossible to predict Federer's chances at Wimbledon this year due to the limited amount of matches he played. But, if the Swiss star can serve like he used to on the center court, anything is possible.
Next-Gen players struggling on grass courts might open doors for Federer
A lot of next-gen players like Alexander Zverev, Stefanos Tsitispas and Felix Auger-Aliassime have proved over the past couple of years that they are comfortable playing on clay rather than grass. While a top player is expected to adapt to all the three surfaces to become legendary, these young guns are yet to make their mark on Wimbledon courts.
As a result of their early-round exits in SW19 over the past few years, Roger Federer needn't be vary of competition from next-gen players. However, arch-rivals Novak Djokovic and Rafael Nadal will always pose a threat to the Swiss Maestro.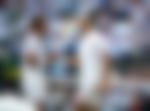 With Djokovic riding high on confidence after winning the French Open title, it will be a mammoth task for Federer to power past the Serb. Besides Novak, other problems for Federer include the likes of Rafael Nadal, Marin Cilic, Kei Nishikori, Milos Raonic, etc.
Considering the practicalities involved, it looks highly impossible for Federer to win his 21st grand slam title at Wimbledon. But, the Swiss star has made it clear that his goal is to be fit while playing high-quality tennis.
As long as Federer doesn't have fitness concerns, the chances of reaching the second week at SW19 are still high owing to the success he had on grass since 2001.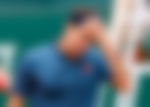 ADVERTISEMENT
Article continues below this ad
ADVERTISEMENT
Article continues below this ad