"Told Myself Not to Miss One Ball": Diego Schwartzman Reveals the Key to Defeat Rafael Nadal Ahead of French Open 2021
Published 05/31/2021, 6:07 AM EDT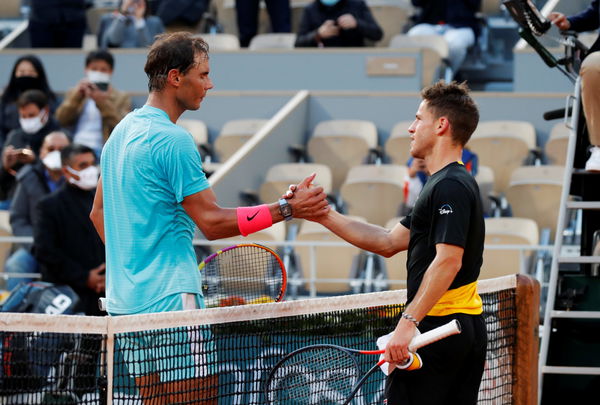 World No.2 Rafael Nadal recently achieved his 'La Decima' at the Italian Open 2021. Many fans believe that he should have accomplished the feat last year itself; however, a certain Argentine named Diego Schwartzman stopped Rafa from conquering Rome last time around.
In a recent interview, Schwartzman revealed how he managed to beat Rafael Nadal on clay last year. He mentioned that he initially just saw the match as an opportunity in which he would be against one of the best players.
ADVERTISEMENT
Article continues below this ad
"I saw it a little, like an opportunity to be able to face the best player in the history on this surface, and surely one of the best players in the history of tennis," said Schwartzman in the interview.
Nobody expected the Spaniard to lose, but Diego stunned everyone when he thrashed Rafa on clay in straight sets. He achieved the feat in the quarter-finals of the Italian Open 2020. The final scoreline of the match was 6-2, 7-5.
Watch This Story: How Roger Federer, Rafael Nadal, Novak Djokovic, Serena Williams, and Others Travel
Diego Schwartzman discloses how he made himself believe that he can beat Rafael Nadal
While walking through the very court where he'd defeated Rafa, Schwartzman highlighted that he had tried to make Rafa tired. When he managed to achieve that, he just followed his plan of not missing any balls. In the end, it worked for the Argentine and he accomplished what very few have achieved on the tour so far.
ADVERTISEMENT
Article continues below this ad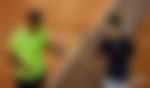 "Obviously, when you face Rafa, the first thing you think is how you are going to keep your rhythm for a long time. Maybe, there in that match, I thought a little more. I convinced myself that maybe, maybe, he was going to be a little tired and I told myself not to miss one ball, to try to play one more," added the World No.10 player.
Even though Schwartzman played really well at the Italian Open 2020, he didn't win the tournament. World No.1 Novak Djokovic defeated him in the final and clinched his fifth Italian Open title. However, this interview might help other players to know about Rafa's weaknesses and it is quite viable that one of them, including Schwartzman, might beat him at the French Open 2021.
ADVERTISEMENT
Article continues below this ad
As of now, both Diego Schwartzman and Rafael Nadal are playing at the French Open 2021. Last year, they met in the semis of the Grand Slam, where Rafa thrashed Schwartzman in straight sets and avenged his defeat. Will Rafa be able to conquer Paris for the 14th time this year?