New York Knicks Forward Explains Why He is Looking Forward To Playing with Kemba Walker and Evan Fournier
Published 09/23/2021, 12:52 PM EDT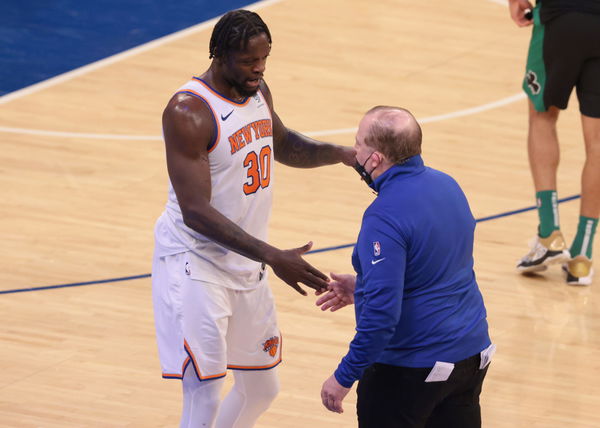 ---
---
The New York Knicks are coming off a bittersweet season that saw them exit in the first round of the playoffs. But instead of focusing on the negatives, the duo of the two-time NBA Coach of the Year and NBA's Most Improved Player for last season look forward to the coming season. Julius Randle has become the franchise cornerstone for the front office to build a championship-contending roster around. And now, he claims he is excited about the fresh additions to the Knicks roster: Evan Fournier and Kemba Walker. The duo recently joined the Knicks after last playing for the Celtics. Julius Randle feels this change will bring more fresh talent to the already strong core of the Knicks roster.
ADVERTISEMENT
Article continues below this ad
ADVERTISEMENT
Article continues below this ad
Randle is ecstatic to play along with Walker and Fournier for the Knicks
During an interview with Sports Illustrated, Ashley Nicole Moss asked Randle about his views on the upcoming season. Especially while keeping in mind the new signing of Walker and Fournier.
He said, "It means a lot. You know, those guys are obviously very versatile players. They can do a lot of different things on the court. They can really shoot the ball, so I'm excited about that. I think they're gonna obviously make us a lot more talented, and you know with Reggie, Elfrid and all those guys, what they brought to our team is tremendous." So Randle seemed specifically excited about the increased range of the team. Kemba Walker shoots at a career average of 36% from beyond the arc. While Fournier's 3-Point Percentage is 37.9% for his career.
"So obviously you know, they're going to add a lot offensively for us, but us as a team, our main thing has to be the main thing. And that's why we come in every night and play with tremendous energy and defend. So as long as we do that, we'll be fine. And you know I think we'll see great improvement. So we just gotta make sure that we coming in, we locked in, we're playing defense and getting stops. Because rest of the league doesn't like doing that. And offensively, honestly, that should be the easy part,"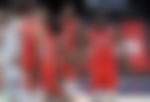 ADVERTISEMENT
Article continues below this ad
Watch This Story
What does this mean for the New York Knicks?
ADVERTISEMENT
Article continues below this ad
Julius Randle became the most improved player last season, majorly because of his ability to carry the team's offense consistently. Now that he has some more experience on the roster as compared to last season, he is bound to be excited to play a little more freely. Since he no longer has the pressure to produce 20+ points per game consistently, he can focus on his playmaking. This will enable him to become the nightly triple-double threat he has the potential to become. Are the Knicks going to contend for the championship this season? Looks likely if they remain healthy, they might.
Watch This Story: His 1963 Chevy Impala, the 2000 NBA Championship Ring & Other Most Expensive Kobe Bryant Memorabilia Ever Sold