Tennis Legend Believes Criticism Will Motivate Novak Djokovic Even More at US Open 2020
Published 09/01/2020, 6:15 AM EDT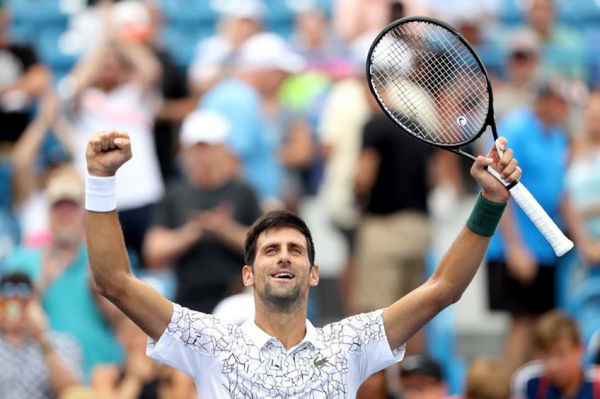 ---
---
Boris Becker, Novak Djokovic's former coach, expects the Serbian to win US Open 2020 but won't be surprised if there are upsets in this year's edition of the tournament. Becker, who won the US Open in 1989 himself and coached Novak Djokovic to six Grand Slam wins, also thinks this may be the Grand Slam where younger players emerge from the shadows of the big three.
ADVERTISEMENT
Article continues below this ad
Novak Djokovic, who has been at the receiving end of criticism for his the Adria Tour debacle, is the clear favorite to win the US Open with Roger Federer and Rafael Nadal out of commission owing to the raging pandemic.
"Novak Djokovic has taken a lot of criticism during the lockdown period and, knowing him as I do, he will be even more motivated than ever to win the title. The Serb is the natural favourite," explained Becker.
ADVERTISEMENT
Article continues below this ad
Djokovic recently faced a lot of deserved criticism for being irresponsible and conducting the Adria Tour inspite of the Covid-19 situation and now for trying to form this breakaway union of tennis players.

The challenge of empty stands
ADVERTISEMENT
Article continues below this ad
Top players are used to playing in front of big crowds, and the crowds help these players bring out their best game. This edition of the US Open, being played in front of empty stands, could be an entirely different ball-game.
The silence could play an important role in bolstering a youngster's claim to a victory. Lots of young players are plagued by crippling nerves and lapses in concentration as a direct result of the atmosphere of pressure that is only intensified by the presence of the fans.
This time, because of the pandemic, there will be no crowds at the stadiums and it may aid the younger players to play their best tennis.
ADVERTISEMENT
Article continues below this ad
"It is going to be very strange, for instance, playing at the giant Arthur Ashe Stadium. When you are down on the court it is almost scary how big it is and it is going to feel very weird for anyone to play in a 25,000-seat arena when there is no one in those vast stands," wrote Boris Becker in his column for Daily Mail.
Novak Djokovic won his first-round match against Bosnia's Damir Dzumhur 6-1, 6-4, 6-1 taking under 25 minutes to wrap up the first set. He will now face Kyle Edmunds of Great Britain in the second round.