"Smart Promotional Move": Fans React as Ryan Garcia Reveals Real Reason He Didn't Talk to Gervonta Davis at the Recent Lakers Game
Published 03/13/2023, 2:57 PM EDT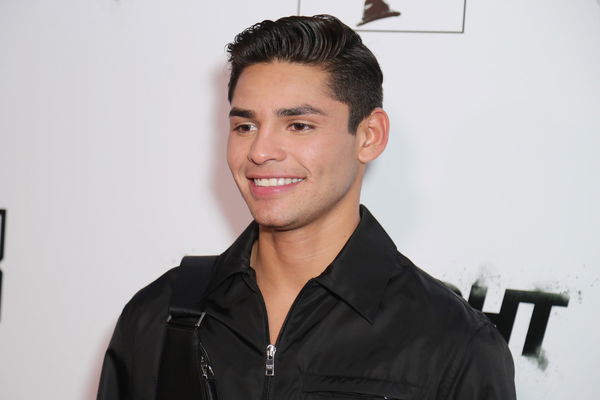 Ryan Garcia and Gervonta Davis recently attended the Lakers game in Las Vegas this Sunday. Both the fighters are going to face each other inside the ring on April 22. And it won't be an exaggeration to point out that this fight is the most anticipated fight of this year, as the tickets for the bout at the T-Mobile Arena were sold out in just three minutes. So, fans are desperate to watch it. And recently, both men got engaged in a press conference and face-off, before the fight.
Now, Garcia and Tank were seated on the courtside at the Lakers game at the Crypto.com Arena in Las Vegas. When Ryan Garcia was coming out of the arena, he was caught by fans and amongst them was Elie Seckbach, the guy behind EsNews.
The conversation with Ryan Garcia
ADVERTISEMENT
Article continues below this ad
So, after watching the game, Ryan Garcia was coming out of the stadium when he was stopped by a bunch of fans. And there the founder EsNews, Elie Seckbach, got the chance to have a conversation with him. So he asked him whether he talked to Gervonta Davis while they were watching the game.
Ryan Garcia said that they didn't have a conversation of any sort. Now, this is important for the fans as things got a bit heated up at their face-off. And later Gervonta Davis revealed what made him swing at Ryan Garcia during face-offs.
Then Seckbach asked, "Why not?" To which Ryan Garcia simply replied, "We were enjoying the game." Then when asked about whether he was ready to face Davis on 22nd April, Garcia said with full confidence, "Of course."
 

View this post on Instagram

 
Then the reporter asked, "What's your reaction to this, sold out in less time to buy a cup of coffee. It sold out in 3 minutes!". Garcia replied to the question with just one word, "Crazy."
The fans are eager to know more about this fight, as even the fact that these fighters standing in the same room silently is enough to excite the whole internet right now.
Fans react to Garcia talking about the fight
The fans are all set to see both men going at it in the ring. And in the comments section of the Instagram post, one of the fans, deuces_tha_homie, stated that going to an NBA game is a very intelligent marketing strategy. They wrote, "Smart promotional move to go to the game"
ADVERTISEMENT
Article continues below this ad
One fan, solitary_moe, stated that the fight is equal on both sides. They wrote, "I'm proud of them two young bulls. May the best man win."
boxing4lif3_ wrote, "Cmon Ellie why would they talk they're not cool 😂😂."
845_kobesondave wrote, "Nah they were "ringside".
ADVERTISEMENT
Article continues below this ad
Watch This Story: Gervonta Davis vs. Ryan Garcia Nearly Done Deal: 5 Interesting Facts
The internet is fired up to see Garcia and Davis getting laced up to test each other in late April of this year. Are you excited about this magnificent event? Let us know in the comments section.