"100% Your Husband Takes the Bins Out": Boxing World Goes Berserk as Amanda Serrano Makes 'Ruff' Sparring Revelation in Latest Tweet
Published 01/30/2023, 3:51 PM EST

Follow Us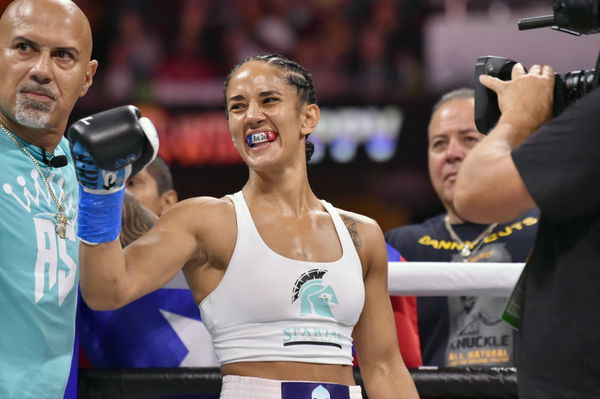 The Puerto Rican pro boxer Amanda Serrano is going to take on WBA female featherweight Champion, Erika Cruz, this Saturday. Serrano has been training hard for this match. Ahead of the match, she shared a tweet about her sparring with a male professional boxer, Mathew Gonzalez. Serrano also took some shots at people who say that the male boxers hold back while boxing with her. She shared a photo on Twitter showing a lump on her face. She did it to prove to her fans that she never let her sparring partners hold their punches back against her.
Serrano is a multiple-weight world champion, having won titles in seven different weight classes, and is one of the best female boxers of all time. She holds several records, including the most world championships won by a female boxer and the most world championships won by a Puerto Rican boxer, male or female. And she always prepares to her fullest for every fight. Like a few months back, Amanda Serrano flaunted her insane weight cut for a fight.
The fans were impressed with the photo of Serrano's lump, and they were mostly trying to encourage her for the next fight or appreciate her preparation for the upcoming fight against Cruz. She even went ahead and wrote, "To me If it ain't Ruff it ain't Right"
ADVERTISEMENT
Article continues below this ad
The fans found the lump on the face of Amanda Serrano quite impressive
The Twitter post was so effective that another professional boxer, Shadasia Green, couldn't help from dropping her comment under the tweet. And she also could resonate with the fighter's training method, as she claimed that she had some lumps present too.
Def caught a few lumps myself 🤞🏽

— Shadasia Green (@shaygreen35) January 30, 2023
Another fan was appreciative of the efforts Serrano was putting into her training and said that to achieve unfathomable success, some unconventional methods need to be taken.
One of the fans was encouraging the female boxing legend ahead of her fight on Saturday night. They want a good show by wanting Serrano to be at her best.
We need you to be at your best Saturday aight

— jay smoke (@ribgametight) January 29, 2023
One more fan commented in a humorous manner about Serrano's husband. He wrote that he'd be the one who may be doing the chores like taking out the trash since she's the one fighting with the male boxer.
One of them praised the female boxer by calling her 'savage', saying that she loves the attitude and dedication she has for boxing.
ADVERTISEMENT
Article continues below this ad
One fan pointed out that this kind of training must be really difficult and would be taking a toll on the boxer's body. And it was evident from the phrasing of the sentence that the fan was in awe after seeing the boxer's perseverance.
Wow! That must be realk6 difficult

— Liberty Lover (@freedom3556) January 29, 2023
ADVERTISEMENT
Article continues below this ad
Amanda is toiling really hard for her next fight, and she's becoming a force to be reckoned with. What are your predictions for the fight between Amanda Serrano and Erika Cruz? Who will win? Let us know in the comments.
Watch This Story: 10 Greatest Female Boxers of All Time