Artur Beterbiev vs. Joe Smith Jr. Prediction
Published 06/18/2022, 11:29 AM EDT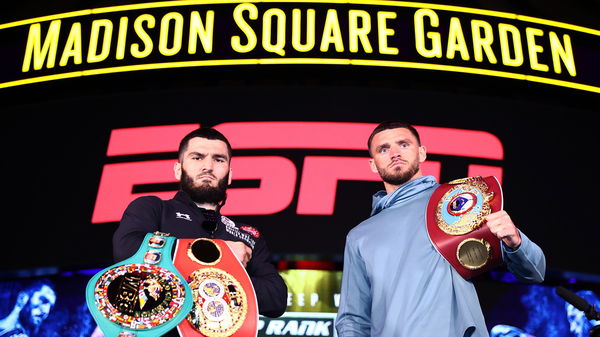 On Saturday, June 18, Artur Beterbiev, the unified light heavyweight champion, will collide with the WBO light heavyweight title-holder Joe Smith Jr. inside the Hulu Theater at Madison Square Garden in New York City. Before the fight goes down, here is a critical analysis of both the fighters. Who will win?
ADVERTISEMENT
Article continues below this ad
To determine who has a better chance, we break down the fighting styles of Smith Jr. and Beterbiev. Here is a brief look at what works out well for each of them and where their strength lies. To all the curious boxing fans with a love for analysis, here is who we feel will deliver ahead of the unforgettable night.
ADVERTISEMENT
Article continues below this ad
The fighting style of Artur Beterbiev: What works for him?
Beterbiev occupies the center of the ring, maintains a high guard, and he takes his time to load and land. Even when he is not attempting his shots, he stays close to his opponent and almost suffocates the latter with his 5′ 11½″ tall presence.
He likes to push his opponent against the ropes and unload a bunch of 1-2s just when there is a chance. Beterbiev is tall and since he maintains a top guard, it relatively makes the job of his opponent slightly tougher.
Watch This Story – Top 5 Fights on Which Boxing Fans Would Pay Anything to Watch …
He stands close to his opponent and forces the latter to remain busy. Beterbiev knows well that he has power and he will always search for that big straight hand. The wide gap he maintains sometimes between the two legs helps him swiftly cut the distance and simultaneously generate a powerful right. This was well-witnessed in his last fight against Marcus Browne.
With 2:43 on the clock, as Browne neared a corner, Beterbiev measured him with his jab and sprightly attacked the target with a penetrating straight hand. His posture was perfect in the sense that he made himself squat and accurately turned on his heel. Although a well-spirited fighter, it is not that Beterbiev does not get hit.
He has endurance, and Beterbiev can certainly throw and land his combinations. As the fight progresses, he settles down and throws more of his power punches, both to the body and head.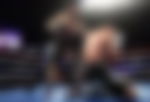 In his last fight, in the middle of the seventh round, he hit Browne with a shot to the body and another to the head. This vicious combo put a temporal halt on Browne and urged the referee to count eight. Beterbiev does not throw much, but whatever he throws, he throws with ill intention.
Beterbiev is a hard-hitter with a will to win
In conclusion, Beterbiev has stamina, endurance, good posture, and a powerful right hand. He will want to stay close to Joe Smith Jr. and try to wear him out by keeping him relentlessly active from the beginning.
However, Beterbiev exposes himself at times, and he does not have that good of a head movement. With intelligence, Smith Jr. can capitalize. When in proximity, he should try hitting Beterbiev with body shots and slow the Russian down.
The fighting style of Joe Smith Jr.: What works for him during his fights?
Joe Smith Jr. has a great height and is even taller than Beterbiev. Unlike the Russian, Smith Jr. begins aggressively demanding control with heavy hands. Similar to Beterbiev, Smith Jr. also maintains a tall guard, but he continuously throws a stinging lead hand. Like the sign of a good fighter, he uses the jab to measure and then follows with a powerful overhand or cross.
His combinations comprise the uppercut, lead hook, and a right overhand. When needed, he cuts angles and, like Beterbiev, he too can capitalize with his opponent against the ropes. He too maintains good posture but swiftly moves out of harm's way.
In the third round against Steve Geffrard, with 2:19 on the clock, maintaining a wide gap, Smith Jr. landed a lead hand to the body. While doing so, he took his head away from the center line. Thoroughly, he kept his guards on and carefully protected himself.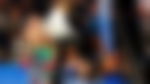 This tells us he avoids unnecessary risks and well understands the fundamentals of body movement. While in proximity, Smith Jr. can definitely hit you with a powerful overhand. Well, since Beterbiev likes to stay close, he better watch out for that right overhand.
Smith Jr. is relentless and has a hell of a stamina
In conclusion, Smith Jr. is technical, powerful, fast, and has movement. He does not hesitate much and throws right from the beginning. There is a good chance that Smith Jr. will slow Beterbiev down with his punches to the body. In addition, Smith Jr., like Beterbiev, has stamina and will not have a problem fighting for twelve long rounds.
ADVERTISEMENT
Article continues below this ad
Who will come out victorious?
Both can land power punches, and the one who has more patience will definitely have an edge Saturday night. Talking about patience, Beterbiev just might impress the fans. However, we also know that it takes Beterbiev some time to settle down. Who knows, Smith Jr. just might put Beterbiev in a struggle early in the fight.
ADVERTISEMENT
Article continues below this ad
With all that said in the above divisions, it is likely that Joe Smith Jr. will seal the deal. He is physically bigger and more technical than Beterbiev at the time. Besides being fast, he moves well and avoids as much risk as possible. Hulu Theater at Madison Square Garden, let's get ready to rumble!
Who will you root for, Beterbiev or Smith Jr.? Let us know in the comments.