"Be Careful With That": Canelo Alvarez Warns Fans Who Claim He's Fighting a "Nobody"
Published 03/17/2023, 5:44 AM EDT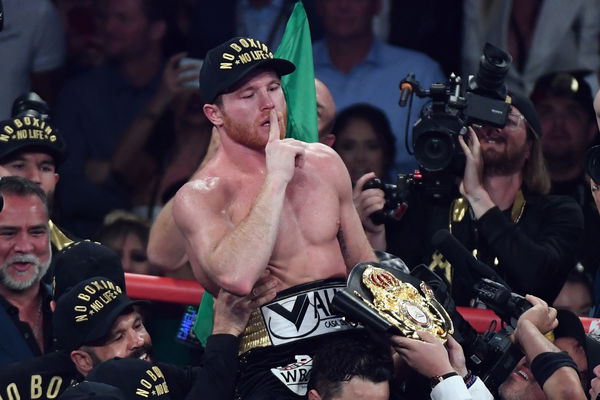 Canelo Alvarez is a great boxer who's just been put down 2 times in his career. Well, the first one was at the hands of the boxing legend, Floyd Mayweather Jr. while the second was a bit recent against Dmitry Bivol. Now, with Bivol, Alvarez was trying something new as he tried moving up in the weight division, from Super Middleweight to Super Light Heavyweight. But, as the whole world witnessed, it didn't work out as planned. After the loss, Alvarez moved back to basics and completed his trilogy against Gennady Golovkin.
His upcoming fight against John Ryder is scheduled to take place on 6th May and will be his return to Mexico after 11 years. Both Alvarez and Ryder engaged with each other in a recent press conference, leading up to the fight. Meanwhile, Canelo Alvarez has been receiving criticism for being on the slide, and not in his best condition. Well, Canelo Alvarez had a message for all of those critics.
Canelo Alvarez addresses his critics
ADVERTISEMENT
Article continues below this ad
There are many who think that Canelo Alvarez's career is beginning to fall. The mediator of the conference, Eddie Hearn, asked Alvarez to share his thoughts regarding such criticism.
Canelo Alvarez stated that he's been boxing for 17 years now, and he did not deny that he's not in the best condition because throughout all these years he has suffered from multiple injuries. But Alvarez stated that these things wouldn't be a hindrance in the fight happening on May 6th. Alvarez said, "I feel very good. I'm very motivated – be careful with that." But still, the fans were not that satisfied with Alvarez's statements.
Fans respond to Alvarez's statements
One fan named adrian1a24 stated that this fight is just a showcase and it doesn't matter what happens in it. They wrote, "Whatever Canelo does in this fight means nothing this is a showcase fight designed to make him look good 🤔💯".
Another fan, Maxxobe, wrote, "If he fights Bivol again he will lose".
One fan, Josemserrano74, pointed out, "Of course, he feels comfortable he's fighting a guy that nobody really knows!! But be careful you might get another surprise like the one with Bivol!!"
Cheesed.cracker had this to say about the situation, "He's proving he's not on the slide by taking a tuneup?"
ADVERTISEMENT
Article continues below this ad
Notably, David Benavidez is the rising Mexican boxer in the division and every fan wants to see him go up against Alvarez in the future. His upcoming fight is against Caleb Plant, who has faced defeat at the hands of Canelo in the past. Recently, Benavidez's father also took shots at Alvarez.
Lastly, a user named Dank_n_dogos wrote, "Benavidez going to beat Plant up, and then he's going to Spank Canelo ..Don't shoot the messenger .. I'm only stating facts lol".
ADVERTISEMENT
Article continues below this ad
It is safe to say that the fans do want to see Alvarez taking on tougher opponents and prove his stance as one of the pound-for-pound greats. What are your thoughts about Alvarez's career at present? Do you think he's "on a decline"? Let us know in the comments section below.
Watch This Story: Five Mind-Blowing Things About Canelo Alvarez's Multi-Million Dollar Mansion in Guadalajara
Edited By: Shibu Immanuel